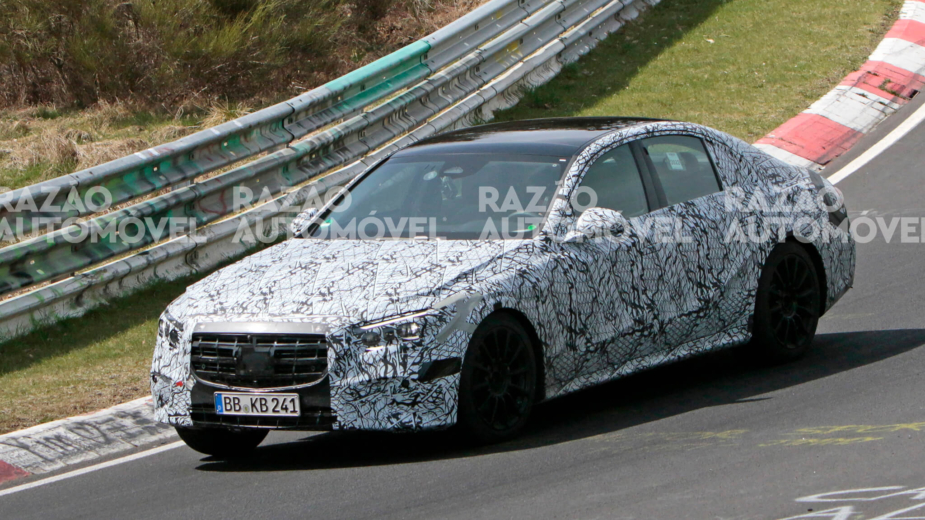 The new Mercedes-Benz E-Class continues its development process and this time it was «caught» in tests at the Nürburgring, where the German brand is fine-tuning the dynamic skills of the German executive.
In this new set of spy photos, the E-Class continues with its look very hidden by dense camouflage, as happened the last times we saw the Mercedes-Benz model in tests.
Despite having been photographed in the "green hell", the test prototype does not seem to anticipate an AMG version of the model, but a so-called "normal" variant — the Nürburgring is one of the most used test circuits by the industry to test any vehicle, not just high performance ones, due to the demands on all vehicle systems.
DON'T MISS: Mercedes-Benz EQS SUV unveiled. More space and more attractive than the saloon?
What to expect from the E-Class?
With an authentic «revolution» already promised for the interior, the new generation of the Mercedes-Benz E-Class should adopt solutions that we already know from the C-Class and the S-Class, that is, a touchscreen (tablet type) to occupy a large part of the center console and another screen behind the steering wheel, taking over the functions of the instrument panel.
As for the engines, the offer should be similar to the current one, which is based on four and six-cylinder in-line diesel and gasoline engines, all with 48 V semi-hybrid technology.
In addition to these engines, we should see a greater focus on plug-in hybrid engines, with versions exceeding 100 km of electric range, as is the case, for example, with the new Mercedes-Benz C-Class 300 e.
With reveal scheduled for later this year, the new generation of the Mercedes-Benz E-Class is expected to hit the market in mid-2023.