A Arrival Van will reach the Portuguese market in the last quarter of next year, but it has already been seen «live and in color», in Cascais, at an event that also served to mark the partnership of the British startup with LeasePlan, celebrated in 2021.
This light goods vehicle is 100% electric and promises a revolution, starting with the way it is produced. It was designed from the ground up to be electric and also to achieve the lowest possible Total Cost of Ownership (TCO).
The vertical integration of component development (internal development) by Arrival contributes greatly to this, which amounts to around 70% of the total components used by Van.
DON'T MISS: We tested the Citroën ë-Jumpy. Can we already "electrify" work?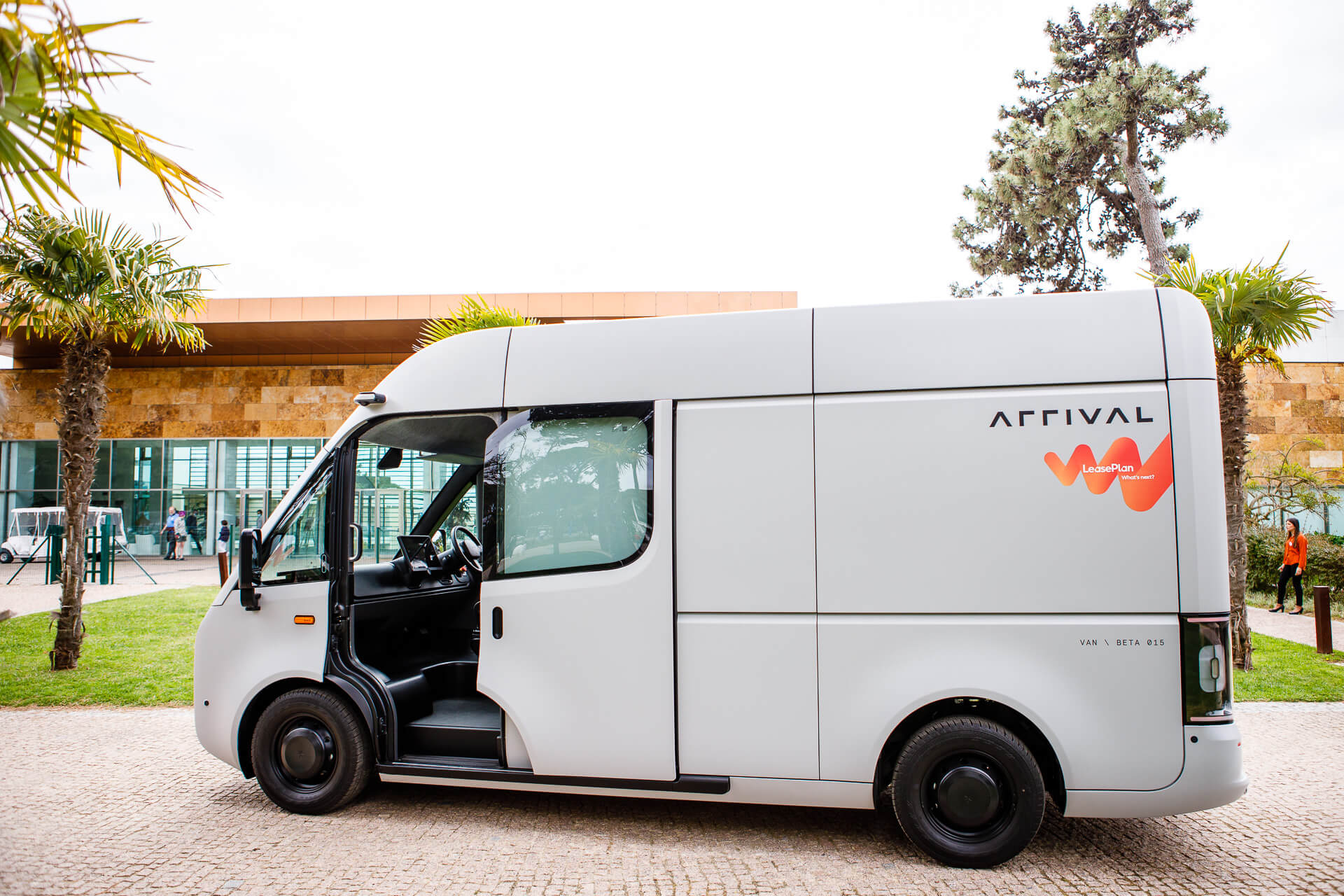 It is possible to stand in the Arrival Van's cabin, courtesy of the low floor.
For this goal, it developed its own robots (and robotic arms), the materials used in this van and even the software, both the one used inside the vans and the one used to operate the factory.
Perhaps that's why Arrival identifies itself as a technology company and not a conventional car manufacturer.
And at this event in Cascais, Andrea Finardi, Arrival's commercial manager in southern Europe, helped us to understand why: "Half of Arrival's employees are software engineers", he explained.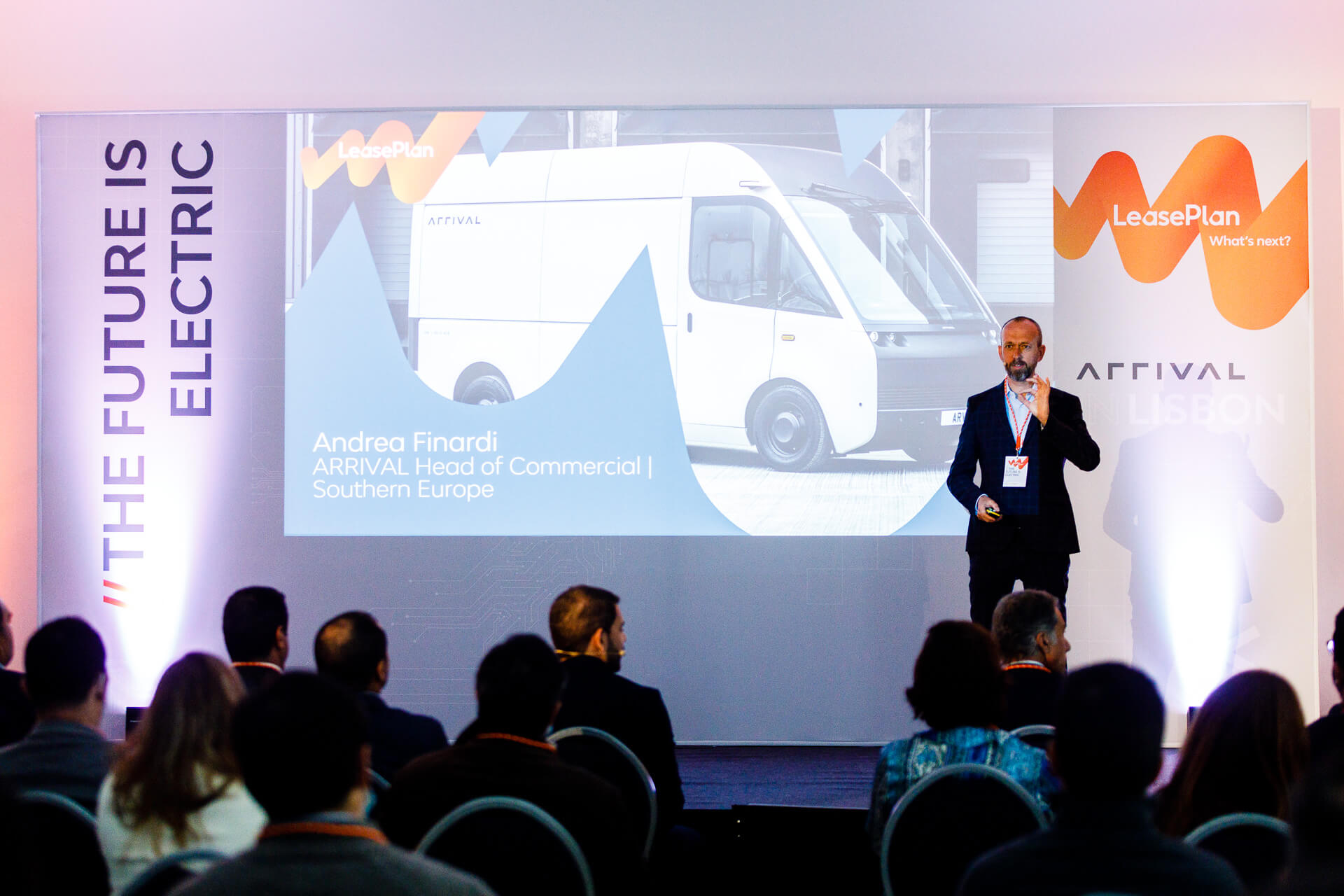 Andrea Finardi, Commercial Manager for Arrival in Southern Europe
Revolution starts in materials
The chassis and the entire «skeleton» of this Arrival Van are made of aluminum, but all the body panels and much of the interior are constructed from a composite material — developed by the British company — composed of fiberglass and polypropylene.
READ ALSO: We tested the Peugeot e-Traveller (electric). What is the future of MPV worth?
Compared to traditional metal "plates", Arrival highlights its lower weight and greater resistance to scratches and dents, which in the long term translates into lower cost of use.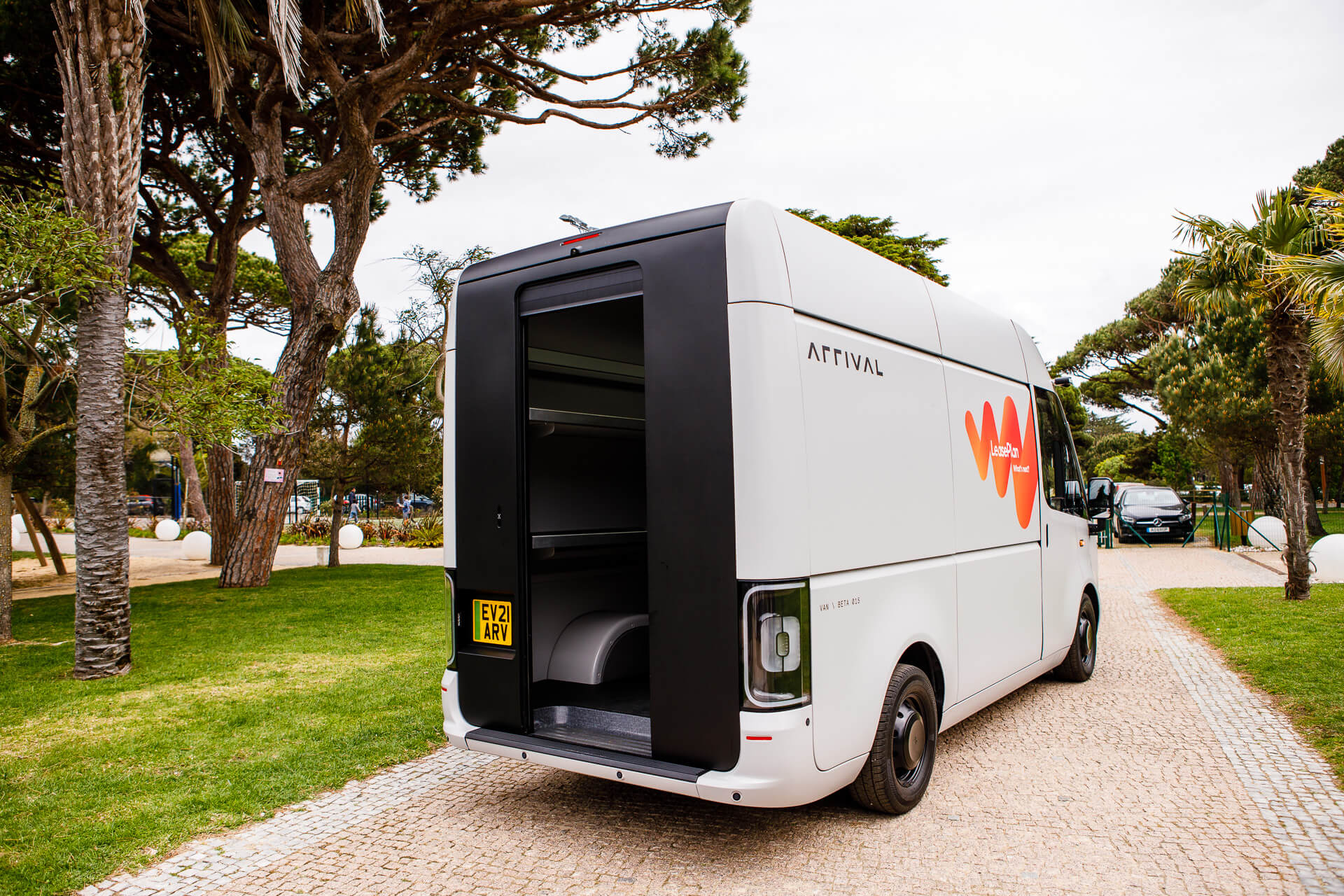 Four batteries available
In total, the Van will be available in eight different variants (four lengths and three different weights), with the lightest version having a curb weight of 2275 kg and the heaviest of 2635 kg.
Depending on the version, the load capacity can go up to 1975 kg, while the load volume can go up to 17 m3.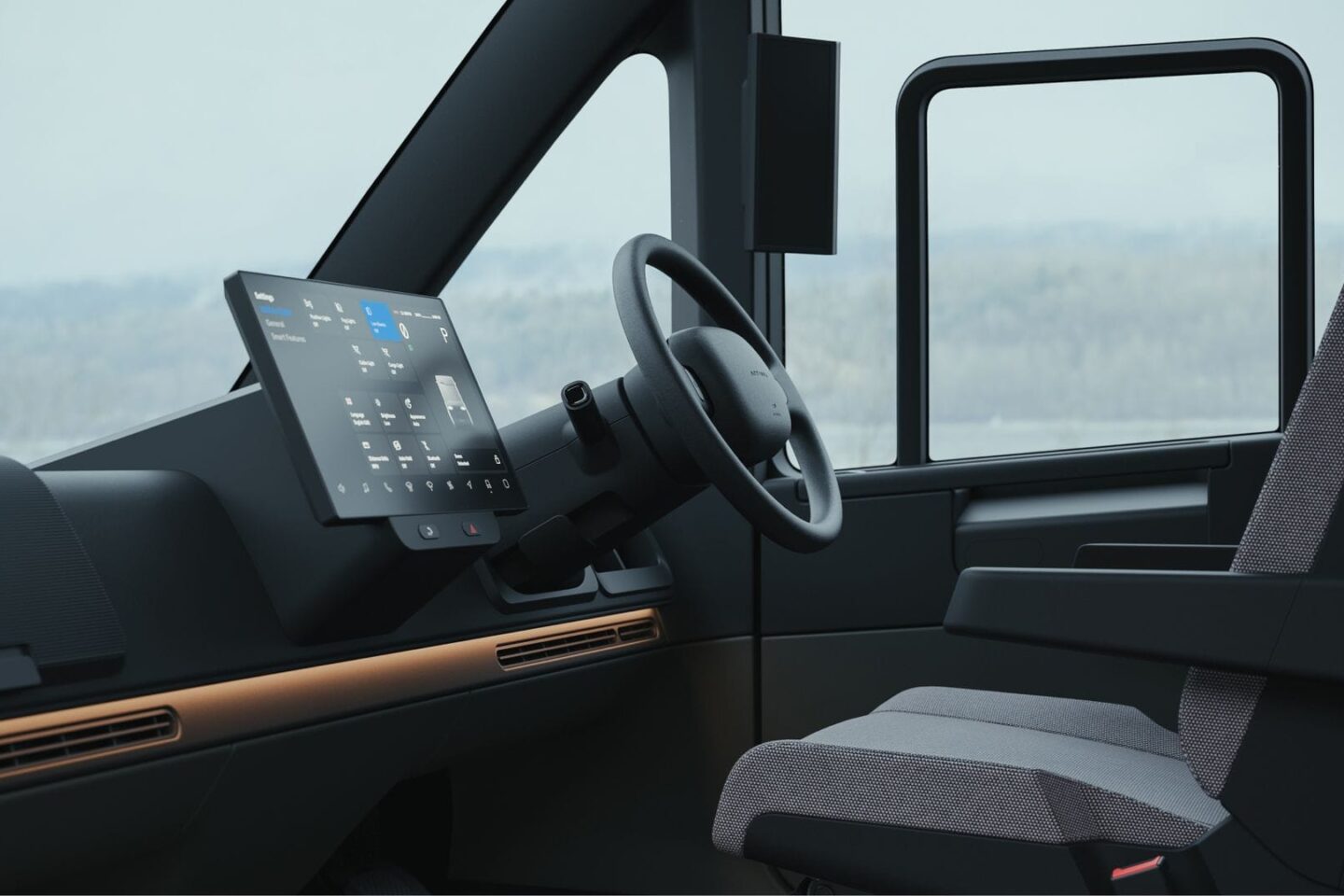 Previous (Left arrow key) Next (Right arrow key)
Central screen is 15.6".
According to the Van variant, the battery can be 67 kWh, 89 kWh, 111 kWh and 133 kWh, making the maximum range also fluctuate between 180 km and 340 km, according to the WLTP cycle.
Whatever the variant, this van always uses an electric motor of 120 kW, the same as 163 hp, whose power is always sent to the two front wheels. Top speed is always limited to 120 km/h.
Either version of the Arrival Van supports AC charging up to 11 kW. In direct current this value rises to a respectable 120 kW.
Arrives in Portugal with LeasePlan
Production starts this summer and, as mentioned above, the arrival on the Portuguese market will only happen in the last quarter of 2023, by the «hand» of LeasePlan, which has already placed an order for three thousand copies of the Van globally. But there is still no price prediction.
DON'T MISS: Tests on the Ford E-Transit simulate entire working life in 12 weeks
However, those responsible for LeasePlan in our country could not be more satisfied: "The partnership with Arrival contributes to the acceleration of LeasePlan's strategy towards zero emissions", began by saying Ricardo Silva, commercial director of LeasePlan Portugal.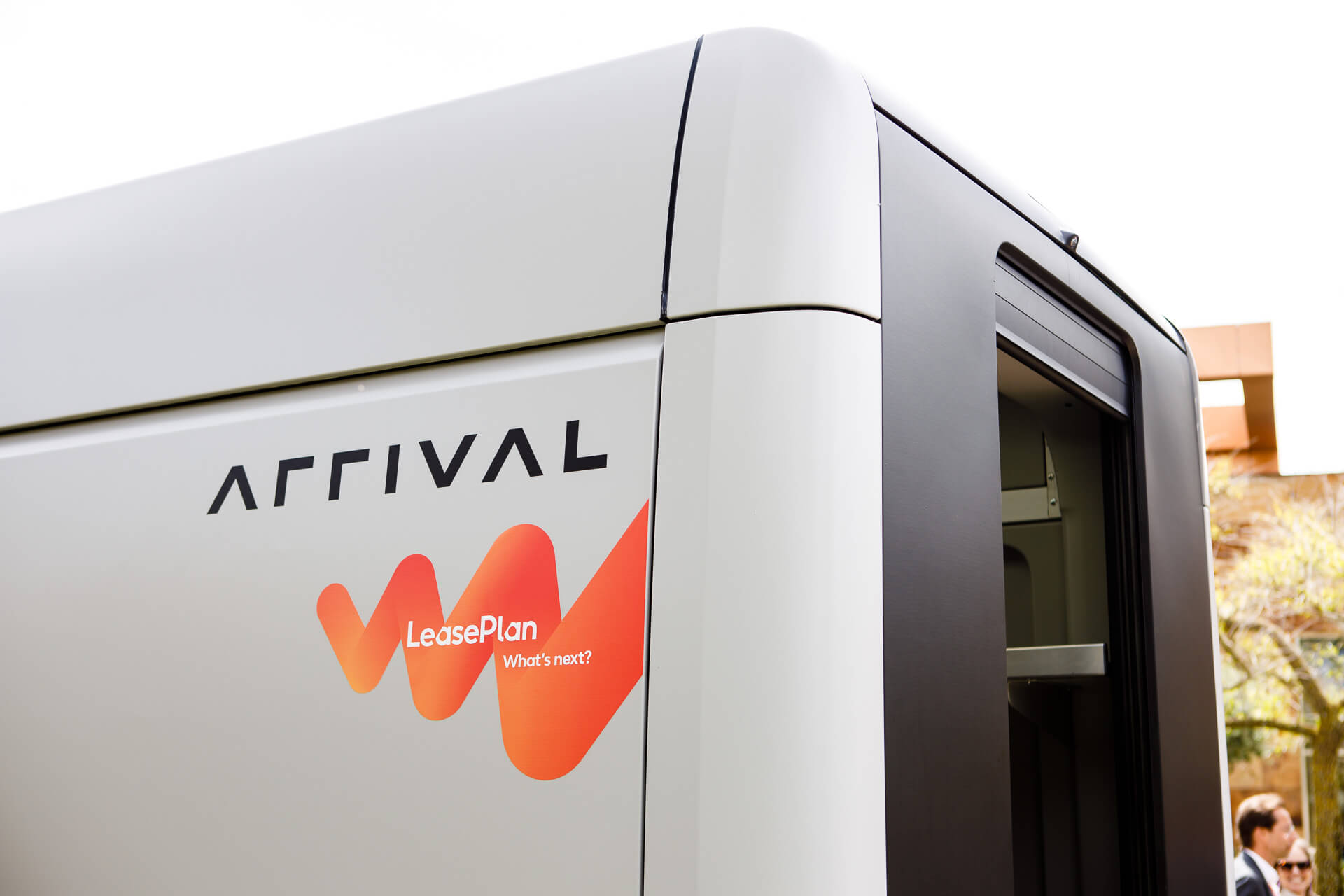 Arrival van's arrival in Portugal will be made by LeasePlan's "hand".
In addition to a differentiating proposal and which LeasePlan promises to represent a value proposition for its customers, this partnership with LeasePlan will have an important impact on the company's "roadmap to carbon neutrality". The goal is to achieve zero emissions in its total fleet by 2030.
"This partnership with Arrival is another step on that path and will allow LeasePlan to provide some of the most eco-friendly, clean and truly innovative eLCVs (Electric Light Commercial Vehicles) to our customers," added Ricardo Silva.