Taxpayers or dependents who receive scholarships, such as Capes, Pronatec and others, must be careful when filing the 2022 Income Tax return. The purpose of the scholarship will determine the correct way to complete the IR program.
It can be either exempt or taxable income, depending on the case. Understand what are the possible types of scholarship and how to declare it.
When is the scholarship exempt?
The scholarship is considered exempt income only if it characterizes a donation, that is, when it is destined solely and exclusively to subsidize studies or research work.
Scholarships paid by Capes (Coordination for the Improvement of Higher Education Personnel), a foundation linked to the Ministry of Education, are exempt income.
If you are a scholarship holder, download the earnings report on the Capes website to fill in your statement. It is necessary to have a password to access the government website system (gov.br). If you still don't have the password, follow the guidelines available on the website to register it.
When is the scholarship taxable?
On the other hand, if the value of the scholarship also serves as remuneration, characterizing the provision of a service, the value is treated as income subject to taxation by the progressive table of the IR.
Generally, scholarships paid by companies are subject to taxation. If this is your case, ask for the company's income statement to fill out your statement.
Scholarships for residents and Pronatec are exempt
The exception to the above rule are resident physicians, whose compensation allowance is considered exempt income.
Scholarships received by public servants of professional, scientific and technological education networks that participate in Pronatec activities are also tax-free.
How to report to the stock market no IR program
The amount received as a scholarship must be informed in the "Exempt and Non-Taxable Income" form. Select code "01" if the fellow is not a resident doctor and does not participate in Pronatec. For these other two cases, select code "02". Do not forget to inform if the bag belongs to the holder of the declaration or his dependent.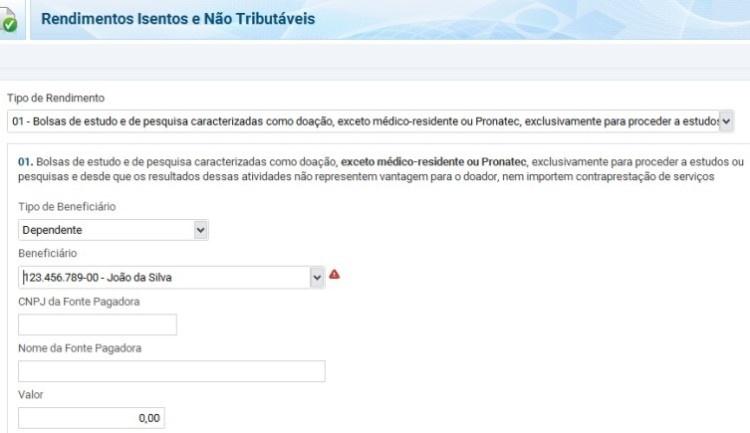 Image: Reproduction
If the grant does not meet the exemption criteria, it must be informed on the "Taxable income received from legal entity" form, in addition to the taxpayer's other taxable income, such as salary or pension, for example.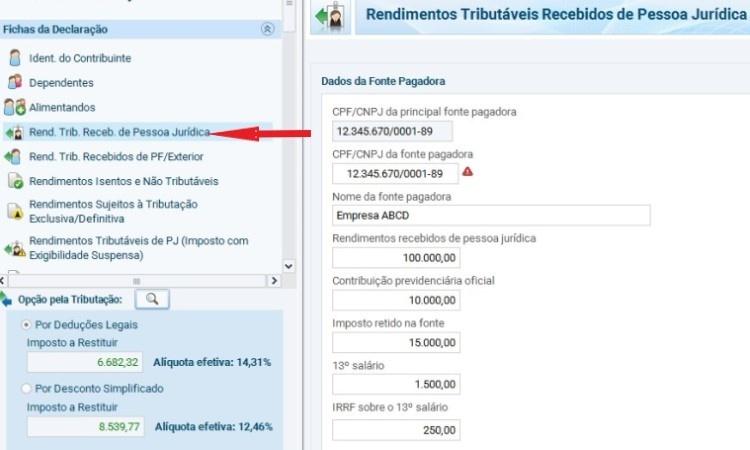 Image: Reproduction
IR-exempt scholarship holders may be required to declare
Those who received a scholarship of more than BRL 40,000 in 2021, even if it is classified as exempt income, must file their own income tax return.
The receipt of exempt income above R$ 40 thousand last year is one of the situations that oblige the taxpayer to deliver the declaration. If you had other taxable income above R$ 28,559.70, you also have to file the IR 2022 statement.