The fragment of a large meteorite that flew over the skies of Paysandú, Uruguay, in March, was seized inside a clandestine boat. The location of the rock was announced this morning by the Uruguayan Navy, which estimates that it could have a value of US$ 1 million (approximately R$ 5 million).
Authorities reported that a vessel was moving in the Piedra del Gaucho region, near the Uruguayan coast, with two people on board. The officers found among the objects, a sealed box. When they opened it to check its contents, they came across a large rock, weighing approximately 400 kg and of unknown origin. The suspects managed to flee into the nearby mountains before the boat was confiscated by guards.
After the discovery, specialists from the Faculty of Sciences of the University of the Republic, in Montevideo, were tasked with analyzing the stone of dubious origin and recently confirmed that, in fact, it is a meteorite with a metallic structure, reported the newspaper La Diaria Política.
According to the Uruguayan Navy, the meteorite seized comes from Campo del Cielo, an area on the country's border with Argentina, known for having been the target of a shower of metallic meteorites thousands of years ago, the researchers say. This is one of the largest meteor scattering zones in the world and the only one from which so much meteoric diffusion mass has been recovered.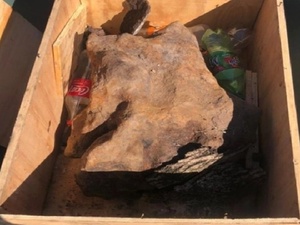 Meteorite was hidden inside a sealed box by the suspects.
Image: Publicity/National Armada of Uruguay
The corporation's statement also pointed out that the rock is rare and one of the largest ever discovered, factors that directly impact its market value.
"The value of a piece depends on its weight and how it is sold (complete or in pieces). The price of this type of piece is approximately US$ 1,000 per kilo. But the price per kilo increases depending on the weight and rarity of rock, in this case is one of the largest found, exceeding US$1 million if the entire piece were sold," the document said.
After the results are obtained, the authorities will direct their investigations to the possible location where the stone was taken from, in order to find out if it was acquired by illegal means.
"For now, we will continue to investigate whether the meteorite was smuggled from any territory in Argentina," Uruguayan prosecutor Carlos Motta said in an interview with the local newspaper El Telégrafo.