In 2020, 172 people disappeared per day, on average, in Brazilian territory. These almost 200 people who disappeared daily were children, adults, men, women, non-binary, of different ethnicities and from all regions of the country. And although the rate is scary, 2020 was the year with the lowest number of missing people in the last decade according to the Public Security Yearbook 14 — a drop yet to be explained.
In the quest to reduce this number and increase the number found, NGOs have been investing in new technologies. The intersection of social networks with public databases and other information freely accessible online tends to increase its potential with the introduction of lesser-known or difficult-to-access tools for the public, such as facial recognition applications and DNA tests for startups that track genealogy. world.
Facial recognition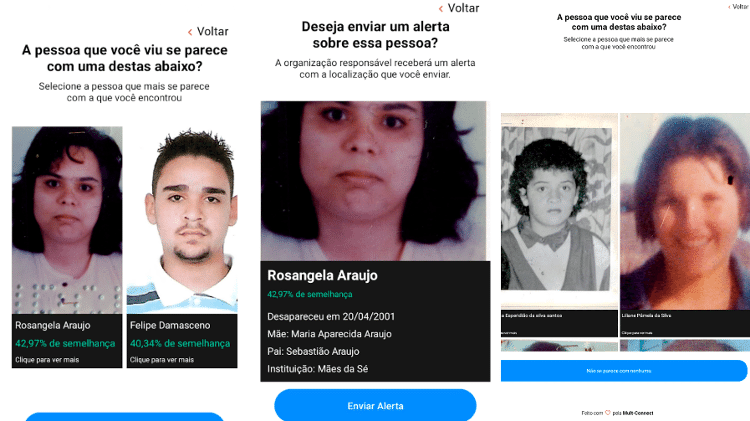 Family Faces, an app created by the NGO Mães da Sé
Image: Reproduction
Created in 1996, the São Paulo NGO Mães da Sé manages to solve 20% of the cases they receive using a very prosaic tool: social networks such as Facebook and Instagram.
Now, a new app should change that scenario. Family Faces, developed by Multiconnect in partnership with Microsoft, promises to facially recognize any registered person, regardless of age and face changes.
Unlike other facial recognition technologies, it does not use information banks about ethnicity, gender and race, but a more universal metric: calculating the distance between 27 points on your face. Second, Luiz Vianna, founder of Multiconnect, these distances are maintained for the rest of life, from childhood to old age – therefore, it would be especially useful in the disappearance of children who are now adults.
Vianna tells about a test she did for the president of Microsoft, Brad Smith. He registered in the database the old photo of a Multiconnect employee, from when she was 14 years old, as if she had disappeared at that age. "So we took a picture of her now, aged 45. The app immediately found the case we had registered in the database and identified that they could be the same person," she explains.
The app could solve, for example, the case of Ivanise Esperidião da Silva, founder of Mães da Sé, now 60 years old. Since 1995, she has been looking for her teenage daughter, Fabiana, who disappeared in the neighborhood of Pirituba, in São Paulo, where they lived.
His grief turned into a struggle: he founded the NGO and found a great ally in Vianna, who has already donated money and equipment to the organization.
When he learned in 2017 that Microsoft had launched a worldwide initiative called AI for Good, he realized it was his chance to collaborate with his expertise as well. Big tech came in with the technology; Multiconnect, with the workforce; and Mães da Sé, with the database.
The State did not cooperate. Due to bureaucracy, it has not yet been possible to integrate Family Faces into hospital and police station networks. So, you can't save the images in databases, because of identity security issues. Currently, when a face detected by the app is considered a potential missing person already registered, a signal is sent to Ivanise, who seeks out the family and the authorities.
Despite the obstacle, none of this has a cost for the NGO and, if it depends on Luiz, it never will.
DNA test
In five years, the NGO Busca Brasil has located nearly 5,500 missing persons, often using more traditional methods of investigation. After all, this is the specialty of its founder, Jairo Mascen, who made a career as a private detective.
Now, when he encounters an adult who may have been a missing child many years ago, he no longer takes out his cell phone or a camera: he pulls an ancestry DNA test kit from the Genera laboratory from his pocket.
"This kit contains a cotton swab to collect the person's saliva. This saliva goes to a platform and there the raw data of the person is analyzed. They measure a percentage of the DNA and compare it with that of the mother, father, grandmother, in short, to see if there is kinship", he explains.
The kit costs R$ 299.99, but part of the amount is paid for by television stations with whom he has partnerships. If the case yields, it is disclosed in an exclusive report.
Social network
Like Mães da Sé, the Associação de Apoio e Busca por Desaparecidos also uses Facebook a lot. In its three years of existence, the NGO has already resolved 4,112 cases.
But social media has its problems – like trolls and swindlers. "We always try to control who enters the groups so as not to expose the families. But it is very difficult to maintain this control", says the founder, Clóvis Antônio Marques.
Marques says he already has the solution: a platform of his own, which will expand the reach of the missing persons database and reduce the harassing of the families involved.
Marques says he already has everything planned, but the project is still in the development phase. There is no release date.