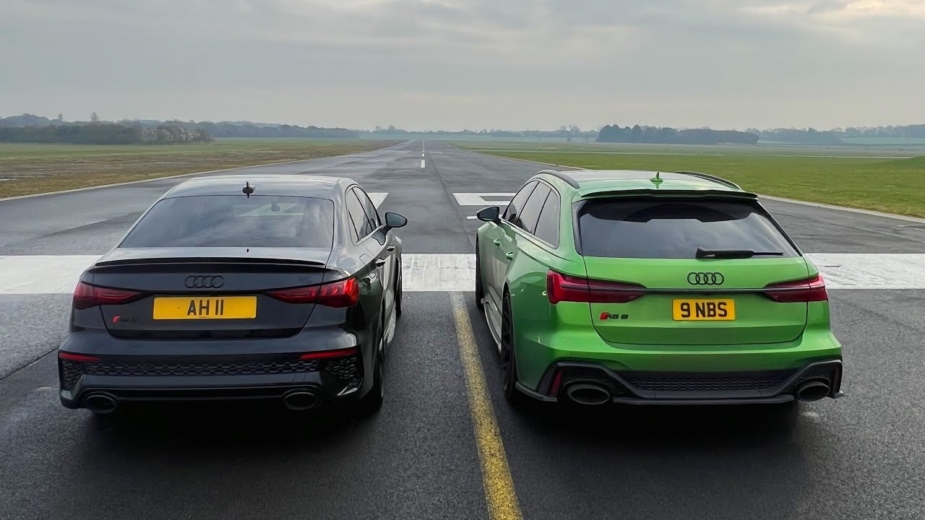 Despite being the entry model in the «RS family», the Audi RS 3 presents very interesting numbers. Powered by a turbocharged in-line five-cylinder with 2.5 l, the EA850 EVO the German model offers 400 hp and 500 Nm.
Equipped with a seven-speed dual-clutch automatic transmission that sends torque to all four wheels, the Audi RS 3 goes from 0 to 100 km/h in just 3.8s and reaches 290 km/h (with RS Dynamic Package) . But is this enough to beat its "big sister", the Audi RS 6 Avant?
With a 4.0 l biturbo V8 that offers 600 hp and 800 Nm of torque, the Ingolstadt sports van goes from 0 to 100 km/h in just 3.6 seconds and reaches a top speed of 250 km/h (with the Dynamic and Dynamic Plus can be 280 km/h or 305 km/h).
NOT TO BE MISSED: Europe without fossil fuels by 2040, proposes the CEO of Audi
After having already beaten one of the main rivals of the RS 3 in a drag race, the Mercedes-AMG A 45 S, expectations are for a new victory for the RS 6 Avant, but is the RS 3 capable of surprising?
To discover the YouTube channel Archie Hamilton Racing put them face to face and in this video you can find out the outcome of this challenge between «David and Goliath».
About "Cold Start". From Monday to Friday at Razão Automóvel, there is a "Cold Start" at 8:30 am. As you drink your coffee or work up the courage to start your day, stay up to date with interesting facts, historical facts and relevant videos from the automotive world. All in less than 200 words.