For the generation that only knew Facebook, Instagram, Twitter and TikTok, the rumors of a possible return to Orkut may sound a little "cringe". But for those who had their first experience with social networks on the defunct platform, the news that the creator is preparing news is a nostalgia gimmick.
Created in 2004, the same year as Facebook, Orkut was born as a side project by developer Orkut Buyukkokten, who at the time worked at Google. The social network was successful in Brazil and India, but did not take off in the rest of the world and was shut down for good in 2014, after a few years losing ground to Mark Zuckerberg's platform.
Get to know (or remember) the main functions of the platform in its golden days.
How were the profiles
Originally, to enter Orkut it was necessary to receive an invitation from someone who was already there. With the success of the platform, it began to accept registrations from people without an invitation. The profiles followed the same pattern as today's networks: photo, name, description and some personal data that you could or could not make public.
Let's see, for example, the image below, which summarizes much of what was seen on the net.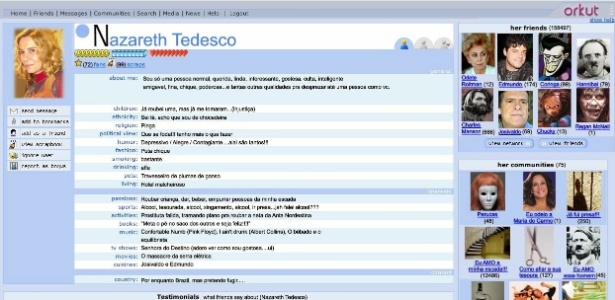 Image: Reproduction
The main user information was there, available to everyone. Provided, of course, that you accepted something that would make a lot of Facebook stalkers shiver: from the moment you wanted to see someone else's profile, you had to activate a function that signaled the owner of the visited profile that you were there.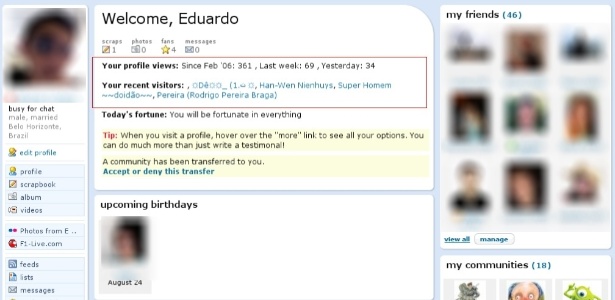 Image: Reproduction
It was embarrassing, but a lot of people turned on the "I'm really snooping around, so what?" mode. and ended up using the function. This, however, was not always like this: in the beginning, Orkut did not have any functionality besides allowing to exchange scraps and view photos.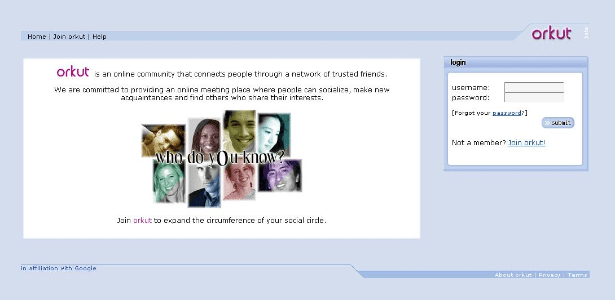 Image: Reproduction
There was also a "kind of 'Black Mirror'" thing: network users used to flaunt the amount of "little ice, little faces, little hearts and little stars" they had. Basically, people rated you on things like "charisma" and "charisma." The little star, in turn, was for anyone who wanted to declare themselves a fan – only her left, in the end.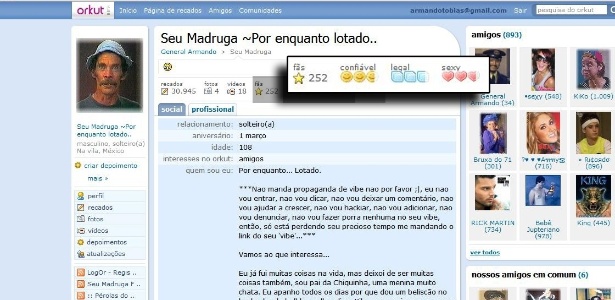 Image: Reproduction
In the beginning, there was also a limit to the number of friendships: more precisely, you could only have one thousand contacts on the social network. The most popular profiles would even split into two or three to house new friends, and the oldest ones ended up with a "CROWDED", like this, in capital letters, next to the name.
DM that nothing: what the scraps were like
If today social networks have dedicated inboxes, the famous DMs (direct message, or direct message, in English), with Orkut the thing worked through messages — or "scraps", for those who started using the platform well in the beginning, when there was still no translation into Portuguese and the main functions were in English.
These scraps were messages that ended up being visible to all friends. Many people left the warning "only add with scrap" on their profile — that is, you would only be added to friends if you left a message identifying yourself.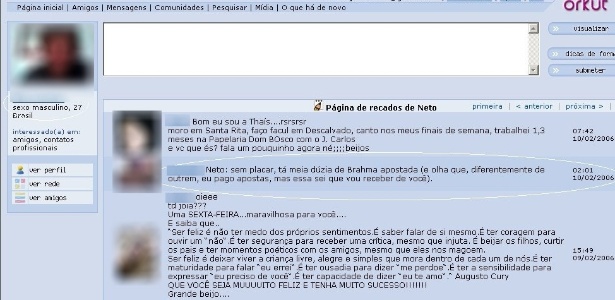 Image: Reproduction
The problem is that, many times, these scraps contained malicious links, like "the photos from the party turned out great".
On the other hand, there was also a tool dedicated to private messages. It just didn't have the same fun and the box ended up becoming a huge pile of spam.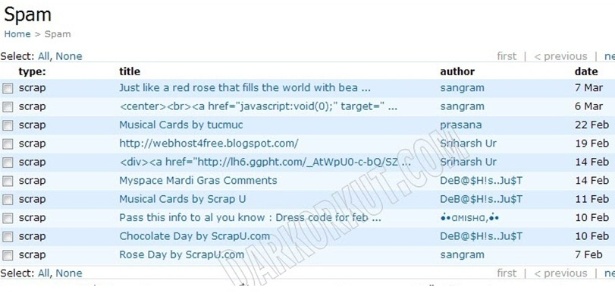 Image: Reproduction
There were also testimonials: not unlike the recommendations people exchange today on LinkedIn, but certainly far less professional. Basically, a friend wrote something cute about you and, with permission, that little text (or textão) was shown to everyone who visited your profile.
The most popular profiles even had a fight for the top of the list of testimonials.
Communities, the great-grandmothers of WhatsApp groups
And, of course, there were the communities, practically a parallel world within the social network. Ancestors of WhatsApp groups, they were a meeting point for fans of bands, fans of football teams or just people tired of waking up on Mondays to discuss their favorite topics and make virtual friendships.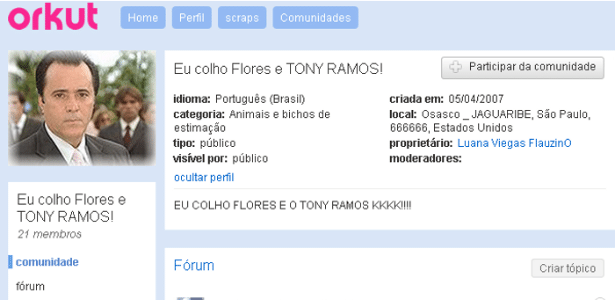 Image: Reproduction
Some of the most famous among Brazilians (and which can still be seen on the Internet Archive website), there were:
I Hate Waking Up Early (6,106,958 members); I love my MOM! (4,571,629 members);Do I bother you? What a peeena! (4,288,293 members);I'm cool, I'm not giving you a soft spot (1,520,489 members).
In Brazil, they also gained importance by gathering in download links for pirated content. It is worth remembering that, at the time, it was not easy to find music and movies on streaming platforms: Spotify and Netflix did not exist, for example.
One of the most famous, "Discographs", was forced to close down in 2009, after gathering almost 1 million members. Administrators said they were being threatened with prosecution by anti-piracy associations.
To enter an Orkut community, just throw the theme in the search field and access. As with today's Facebook groups, some only allowed entry after review by moderators — to avoid entry by fake profiles, scammers or spam robots.
Inside, you could create or comment on a topic, a kind of post that started a whole parallel conversation within the community. It was possible to see who the other members of the community were and even see suggestions for similar groups.
turned into a mess
Over time, however, Orkut went beyond the basic functions of a social network and started to add some strange features. In addition to the profusion of animated gifs and images with self-help messages, Orkut had its own tool to cheer up its users: "Luck of the Day".
$escape.getH()uolbr_geraModulos('embed-foto','/2017/orkut—sorte-do-dia-1499191948994.vm')
And if you had a crush, you could add them to a special list – you'd be notified if they did the same.
$escape.getH()uolbr_geraModulos('embed-foto','/2017/orkut—list-de-crush-1499191985651.vm')
Orkut also had a section dedicated to games and applications. One of the most successful was BuddyPoke, which allowed you to create an animated avatar for your profile — in some cases, it was also used as a marketing tool.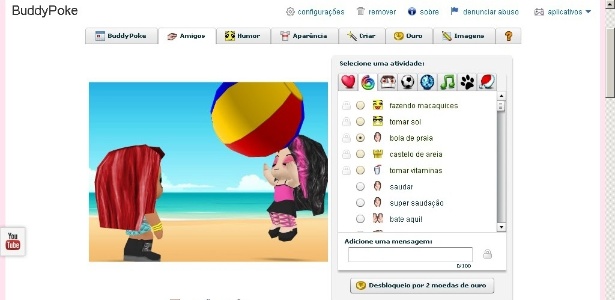 Image: Reproduction
Often, however, none of this happened on the social network. That's because she had a bad habit of going offline and often presenting this infamous message to users.
Image: Reproduction
So, did you miss it?