Amid the skyrocketing fuel prices, drivers are currently spending, on average, R$363.50 to fill their car's tank with regular gasoline in Brazil. The value is 33.4% higher than that recorded a year ago, in April 2021, when BRL 272.50 – or BRL 91 less – were needed to refuel the same vehicle.
If you only consider the values ​​for this year, filling the car's tank was R$ 31.50 more expensive: in January, it was necessary to spend R$ 332. In April, just three months later, the bill rose 9.5%.
The calculation made by UOL takes into account the tank of a passenger car with a capacity of 50 liters and the average monthly prices in Brazil raised by the ANP (Agência Nacional do Petróleo, Gás Natural e Biocombustíveis).
A year ago, in April 2021, a liter of regular gasoline was worth R$5.45, on average. In January of this year, it jumped to R$ 6.64.
Last week, it cost R$ 7.27 – an increase of 33.4% in one year, almost three times above the previous inflation accumulated in the period (12.03%).
Today, according to the latest ANP survey, the most expensive gasoline is found in the city of São Paulo, where a liter costs R$8.60. In other words: to fill a 50-liter tank, a driver from São Paulo may have to pay up to R$ 430, an amount 18.3% higher than the national average (R$ 363.50).
Why is it so expensive?
Experts point to different reasons for the high price of gasoline. More recently, the instability caused by the war between Russia and Ukraine, which has sent oil prices soaring abroad, is what has contributed to this increase.
The pricing policy adopted by Petrobras is directly influenced by the price of oil abroad and that of the dollar in Brazil, which causes frequent readjustments in fuels. On March 10, the company announced an 18.77% increase in the price of gasoline at distributors — a rise that is also being passed on, to a lesser or greater extent, to consumers.
In addition, the gasoline sold at the stations has 27% ethanol in its composition, which also recorded a strong increase in prices. In April 2021, a liter of fuel cost, on average, R$3.83, according to the ANP. In the last week, it reached R$ 5.50 – an increase of 43.6% in one year.
The increase even had an impact on gas stations in neighboring countries: Brazilians started lining up to fill up in Argentina, facing queues of up to four hours.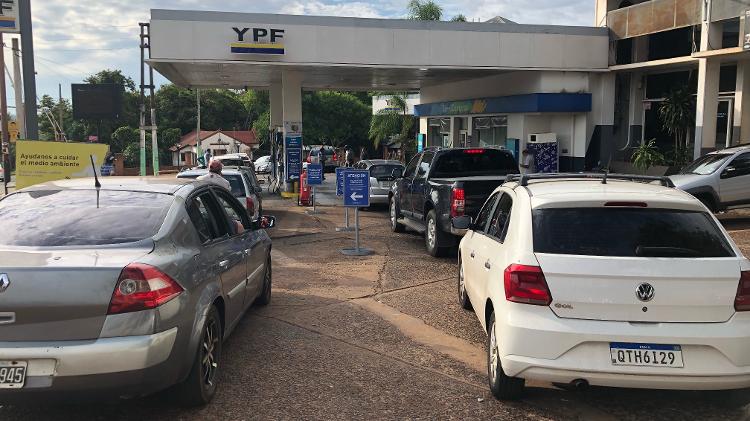 In Puerto Iguazú, Argentina, there were different lines for Argentines and foreigners to fill up in March this year
Image: Denise Paro/UOL
Government and Petrobras
The readjustments in fuel prices are constant targets of criticism by President Jair Bolsonaro (PL) of Petrobras.
In April 2019, Bolsonaro pressured the company to cancel a 5.7% increase in diesel at refineries — a nod to truckers, an important part of his support base. He denied, however, that he had interfered with Petrobras. On the same day, the company's shares on the Brazilian Stock Exchange, B3, plummeted by more than 8%.
In February 2021, Bolsonaro announced that he would not renew the mandate of then-President of Petrobras, Roberto Castello Branco, because he was dissatisfied with the company's pricing policy. His replacement, Joaquim Silva e Luna, was also fired just over a year later, in March 2022, for the same reason. The general was succeeded by José Mauro Coelho, who took office on the 14th.