iFood customers are reporting that the platform may charge different prices to people who order the same dish, for delivery to the same address. What would change in the "dynamic price" would be only the user: if he is part of the iFood Club, he is charged a higher amount.
The story went viral on social media after a publication on Reddit made by programmer Felipe, from Goiânia (who asked to have his surname preserved).
A member of the Clube iFood discount program, Felipe told Tilt who noticed the price difference when he tried to place the order on his cell phone, a Redmi Note 8, and also on his mother's, an iPhone 13.
She was looking for something to order on her personal phone and the programmer suggested using his account to check for a discount. That's when she realized the difference and took the photo: on his cell phone, the feijoada went for R$74.90. In hers, the same dish cost R$ 66.90.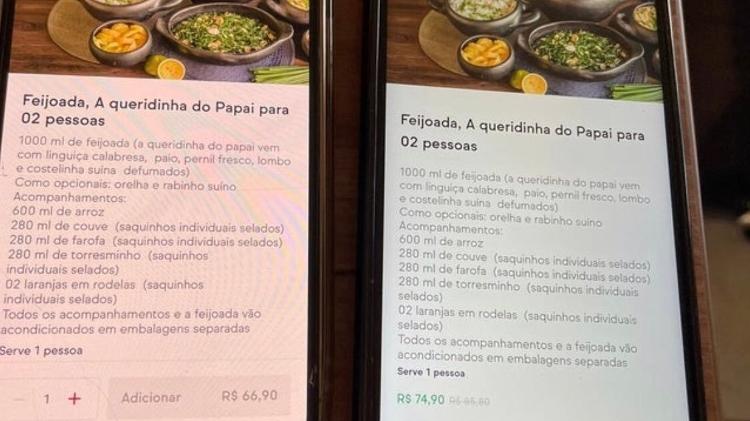 Filipe's feijoadas, with different prices for him and his mother
Image: Playback / Reddit
"Pedi [a comida] for mine, which was more expensive, because my coupons were about to expire, so I needed to spend it soon", he recalls.
"I ask [pelo iFood] practically every night. This change was from a restaurant I had never ordered. I don't know if they're using it as a way [de aumentar os valores e compensar o cupom]", adds the programmer.
iFood denies that this occurs (see below).
Professor Diogo Cortiz, from São Paulo, PhD in intelligence technologies and digital design from PUC-SP (Pontifical Catholic University of São Paulo), is not a member of the iFood Club, but he has also come across different values ​​within the platform.
I saw this story on Reddit, but similar things have happened to us.

My wife and I were looking for different prices and delivery rates. pic.twitter.com/Th0GsBbRfI

— Diogo Cortiz (@DiogoCortiz) April 23, 2022
According to Cortiz, he and his wife were researching options each on their cell phone (models of the same brand and with the same operating system). That's when he found different rates and promotions for the same delivery location.
Housewife Juliana Osório, from Vitória (ES), also reports the Tilt another similar situation. Her husband went to place an order at a well-known restaurant, but he was surprised at the price, which was higher than usual. "I went to check it through my app and it was the price we always paid. In his, it was different", she recalls. The discrepancy reached almost R$ 50.
"I concluded [o pedido] through my cell phone app, with the lowest price. I don't know whose strategy it is, but I don't think it's honest," she says.
What iFood says
wanted by Tilt, iFood, through its press office, states that it does not practice dynamic prices and that any inconsistencies in the system are promptly corrected by the technology team. In addition, it suggests that the customer report any occurrence through the support in the app itself.
The company also clarifies that the menu pricing strategy is carried out solely by partner establishments, without any interference from the company.
As for the iFood Club, the company claims that the program allows customers to purchase coupon packages for discounts and that this does not interfere with the prices charged on the establishments' menu.
There is no legislation on the practice
According to lawyer Pietra Quinelato, author of the book "Personalized Prices in the Light of the General Data Protection Law", there are applications that can use algorithms to prepare a specific pricing for each client. They evaluate consumption profile and behavior data to estimate "how much the consumer will pay", she says.
This data can be the operating system used, the purchase and browsing history, the location of the profile, the use of price comparison tools and even the access routes to the website.
In Brazil, there is no law that prevents this practice. But, if a company decides to adopt it, it is necessary to comply with current legislation. Not only those of Consumer Law, but also the LGPD (General Data Protection Law).
"The company must be transparent about the treatment carried out with the user's personal data", highlights Quinelato, who is also coordinator of the digital law area at Mansur Murad Advogados.
Quinelato suggests that, in case of any doubt, the consumer should ask the company for clarification. And they can also get in touch with consumer protection agencies, such as Procon (Foundation for Consumer Protection and Defense). If you feel harmed in any way, you can also file a complaint with the agency.