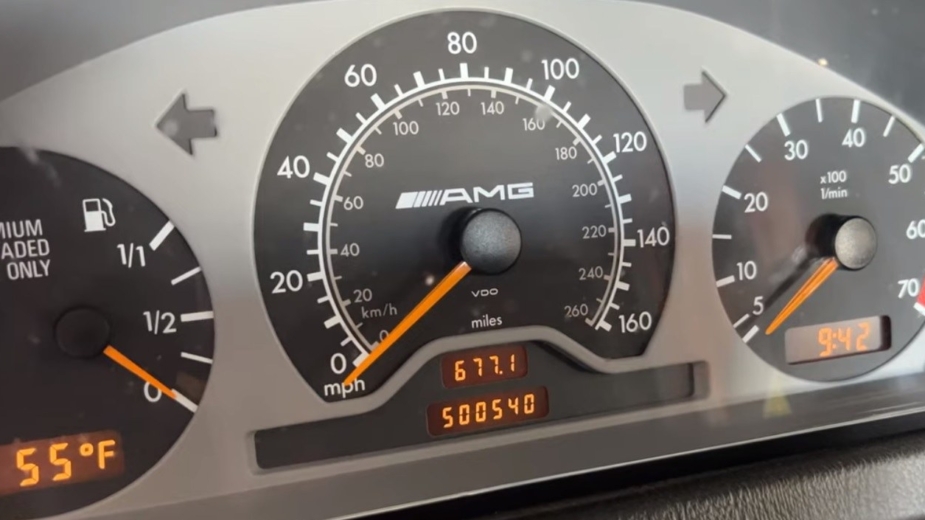 This Mercedes-Benz C 36 AMG from 1996 (generation W 202) proves that even high-performance versions can accumulate as many or more kilometers than the so-called "normal" versions.
The odometer of this North American example registers an astonishing 500,540 miles, the same as 805,541 km, making it the highest mileage AMG on the planet — an average of over 30,000 kilometers per year.
More than half a million miles later, it deserved this deeper cleaning of its bottom, using dry ice blasting technology, capable of removing the most encrusted dirt and even minor signs of corrosion.
SEE ALSO: Model 3 with white interior? This is how it looks after 170 thousand kilometers
This is what we can see in the video of the I AM Detailing channel where the various parts that make up the background seem to miraculously recover the appearance of new, as if the 26 years that they accuse were not being felt.
We can still see the wheel arches being cleaned as well as the engine compartment, in a small film that ends up having a therapeutic and very satisfying effect to observe:
Mercedes-Benz C 36 AMG
There is not much information about this unit in particular, but this Instagram post from Weistec Engineering and Optima Batteries gives us some clues as to how it accumulated so many kilometers:
Apparently, it was bought new by a lady who traveled every day between Newport Beach and Santa Barbara, in the state of California, USA, totaling approximately 450 km daily. No wonder it accumulated so many kilometers so quickly.
The C 36 AMG stands out for being the first model to be developed jointly between Mercedes-Benz and AMG, having been unveiled in 1993. Half a dozen years later, Mercedes-Benz would acquire AMG for good.
The Mercedes-Benz C 36 AMG was equipped with an in-line six-cylinder with a capacity of 3.6 l, the largest of the M 104 engine family and also the most powerful: 280 hp at 5750 rpm.
The transmission was made to the rear wheels through an automatic gearbox with only four speeds, allowing it to reach 100 km/h in 6.7s and reach a maximum speed of 250 km/h.
It stood out for its sportier appearance on the outside, albeit discreet, highlighting the AMG-specific 17″ wheels and the angled dual exhaust outlet.
Not many were made, only 5200 copies were made — it would later be replaced by the C 43 and C 55, equipped with a larger V8 — but it would be the first chapter of a story that still gives us some of the high-performance machines with more character on the market today. . And from what we can see, they can also last a lifetime.