An aircraft carrier is one of the main war machines in the world today. It manages to move a country's air strike force away from its territory, in addition to allowing the defense of nations' borders in a more dynamic way, as it does not depend on land bases.
These vessels are famous for their catapults, which make planes reach hundreds of kilometers per hour in a very short runway space. However, not all aircraft carriers have a catapult system to launch their aircraft.
There is another way to launch a plane in so little space, which is to have a sloping ramp at the end of the runway. But the choice between one way or another to make the aircraft take off will depend on a group of factors, such as weight, type of aircraft, among others.
Catapult or ramp?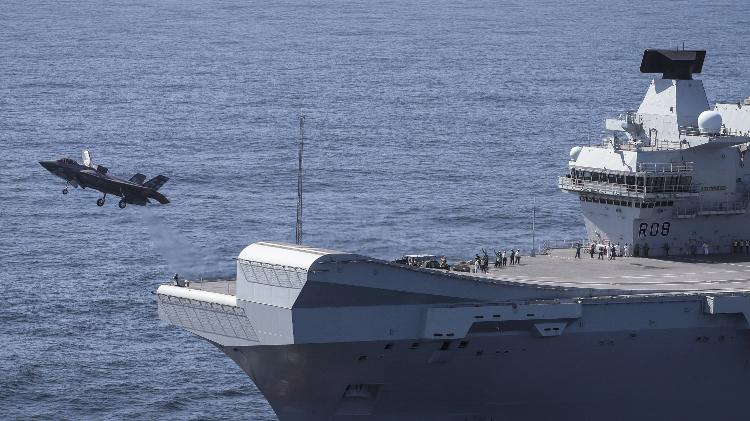 F-35B takes off from the aircraft carrier HMS Queen Elizabeth using the ski-ramp system
Image: Kyle Heller/UK Navy
US military aircraft carriers are often equipped with catapult systems to launch their aircraft. This same type of vessel in other countries such as Russia, China or the United Kingdom usually uses a ramp at the end of the runway to ensure take-off.
According to Fernando Martini Catalano, professor of Aeronautical Engineering at USP (University of São Paulo, with catapults, planes can take off heavier because they rely on external assistance to be able to fly.
With the ramps, it is important that the plane has its own power to take off in that short space that is the deck of the aircraft carrier, says the professor.
In the case of the United States, their aircraft carriers are able to launch heavier fighter jets or with a greater amount of weapons, eventually, since, in addition to their own momentum, they still have the extra strength of the catapult. This includes, in addition to fighters, other larger planes, which cannot reach high speeds with little runway, such as monitoring planes.
In other situations, planes with more powerful engines can also take off without being launched by catapults, since they can reach higher speeds in the short space they have. This is the case of aircraft carriers with a sloped ramp at the end of the runway.
How do they work?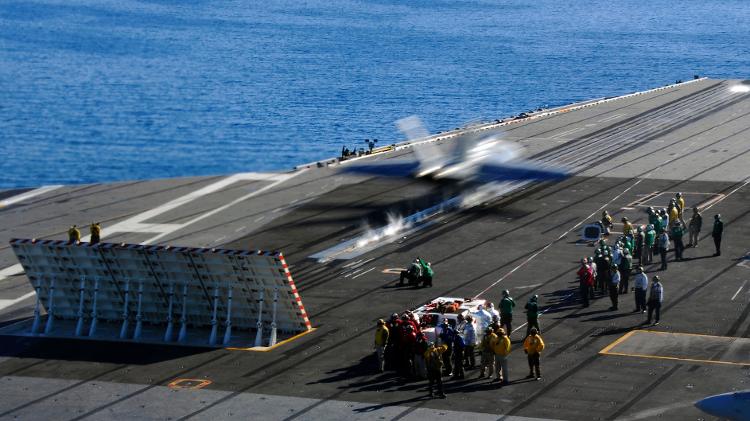 F/A-18C is catapulted from the aircraft carrier USS Nimitz. The fighter's air jet bounces off the deflector, which helps with takeoff
Image: Eduardo Zaragoza/US Navy
Catapults are mechanisms that are attached to the landing gear of planes and can reach high speeds in a few moments. With that, added to the help of the plane's own engines, they can take off in a few hundred meters instead of distances that would exceed a kilometer in real life in most situations.
With this, catapults tend to offer more agility with the launch, putting more planes in combat in a shorter time. They also help to save fuel on airplanes, since takeoff is the moment when the most consumption is due to the impulse needed to leave the ground.
The ramps, in turn, were developed with greater intensity by England so that its aircraft carriers could support aircraft such as the BAE Sea Harrier. This plane has the ability to take off vertically, but as it consumes a lot of fuel, it would need to be refueled in flight after a short time.
The alternative would be for him to take off by his own means from the deck of British Navy vessels, which was possible after several studies that led to the insertion of the inclined ramp at the end of the runway. Thus, the plane can take off without needing the extra thrust of the catapult.
Another advantage of non-catapult aircraft carriers is that they do not need these systems, which are expensive and, if they have any problems, can paralyze the operation on board.