Creating digital and educational solutions to combat digital inequalities that make access to information and communication difficult in the periphery and slums have been the main challenge faced by Desenrola e Não Me Enrola, a collective of journalism and peripheral communication, in the last nine years.
Producing journalism with limited access to the internet is a reality in the daily lives of journalists and communicators from the periphery and slums of Brazil, which motivated Desenrola e Não Me Enrola to create solutions to combat digital inequalities that compromise access to information and the development of critical thinking. of the black and peripheral population.
Created in 2013 to investigate the social transformations and cultural identity of subjects and peripheral territories, Desenrola e Não Me Enrola completed nine years of existence in April, celebrating a path of no return: Brazilian journalism, which today is moved by digital platforms and social networks, needs the innovation of peripheral journalism.
"We deconstruct perspectives, narratives, prejudices. We inform and see beyond the facts", says the manifesto launched by Desenrola, together with a signature campaign in Catarse, in celebration of its nine years of strengthening journalism, focusing on producing and distributing information that represent the diversity of the daily life of the black and peripheral population.
It registers the hashtags that do not enter the trends of the social networks, and that are important subjects, that are in the mouth of the people in the broken.
In stores, houses, cafeterias, soccer fields, markets, community centers, pharmacies, grocery stores, butchers and street markets, people circulate who breathe and experience a Brazil that needs to be discovered and read by you. this is our role.
ecosystem
Do you eat your food fast? Have you ever felt the need to swallow food without chewing it properly and had indigestion right away? This is the daily life of the majority of the Brazilian population, always running out of time. And so it is in journalism too.
The speed at which information is produced and consumed nowadays means that people do not have time to digest so much information. This causes a series of social anomalies in the interpretation of reality that is part of readers' daily lives.
That is why, since the first half of 2013, the Desenrola news portal has served as a platform for the production of knowledge about journalistic work in the periphery and slums, by putting into practice a form of information production that investigates beyond the facts, seeking to show not only the now, but the past, present and future of historical events.
This is our way of valuing and innovating the way the reader will understand the information.
But Desenrola doesn't stop there. To go beyond social networks and digital news platforms, back in 2014, the collective created Você Repórter da Periferia, a free journalism school that has been training communicators in the outskirts and slums of the metropolitan region of São Paulo for eight years.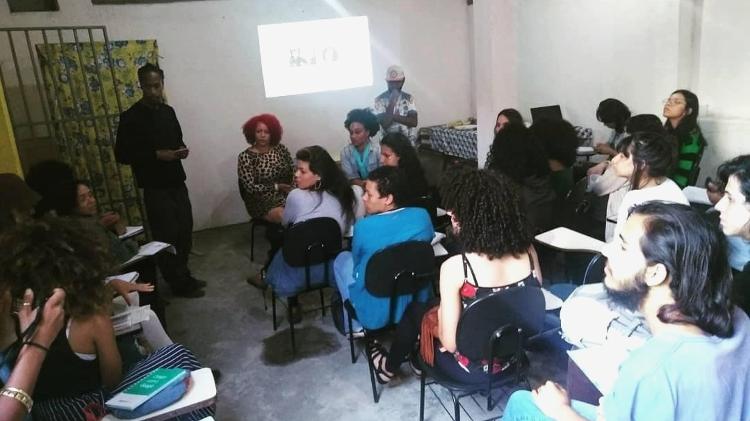 Meeting with journalist Nikole Hannah-Jones of the New York Times
Image: Evelyn Vilhena
These young people trained by Você Repórter da Periferia occupy radio stations, newspapers, independent media portals and television channels, such as Folha de S.Paulo, Estadão, Record, Bandeirantes and many other traditional and independent media outlets.
Before going to the job market, young people work in the newsroom of Desenrola itself, as part of the training and professional development process.
In addition, we encourage these people to create their own communication enterprise in the periphery and slums, through contact with public policies that encourage youth to access public resources to develop projects with social and cultural impact.
The differential of this generation of communicators is that they already arrive in newsrooms with our DNA of producing journalism in the periphery and slums.
In addition to the news portal, another solution created by the collective to strengthen the field of peripheral journalism focuses on the creation of the first Peripheral Media Center in São Paulo, located in Jardim Ângela, south of São Paulo. The initiative acts as a shared working space for communicators and journalists.
The space includes the Desenrola newsroom, a photo and video studio, an auditorium with capacity for 30 people, and an office for meetings and internet use.
The initiative is aimed at communicators who work in the periphery and slums and undertake journalism, audiovisual, social networks, digital and printed content.
The Media Center is part of the collective's strategy to strengthen the professional performance ecosystem, exchange knowledge and generate job opportunities for residents of the periphery in communication.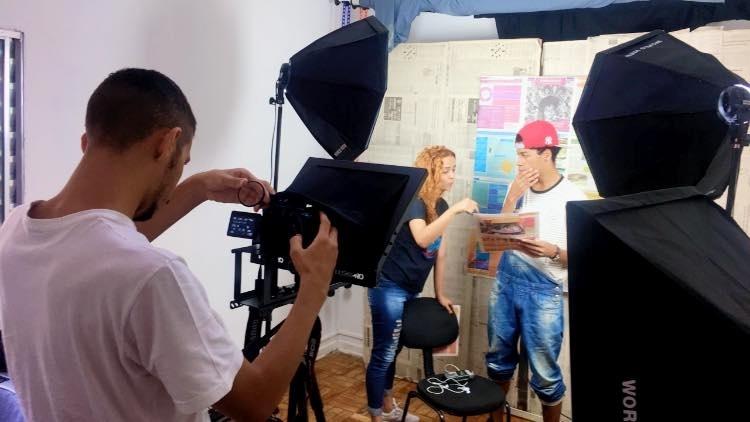 Communication collective produces audiovisual program for the internet at Centro de Mídia studio
Image: Flávia Lopes
Court hearing
In these nine years, we have dealt every day with the difficulty of audience growth on social networks and digital platforms.
Our profile on Instagram has just over 4 thousand followers. On Facebook, we have 6 thousand followers. On YouTube, we have not yet reached 1 thousand subscribers on our channel. Twitterour audience is even smaller: less than 500 followers.
Professional incompetence to attract an audience or a digital barrier to accessing information impacting our work?
In this complex context of action, imagine what it is like to produce journalism with limited access to the internet, which does not allow us to quickly upload a video to YouTube, conduct an interview through a live broadcast or even watch a video on Facebook timeline, which does not run due to mobile internet signal oscillation.
These perrengues that portray the digital inequality that we have already reported here, present in the daily lives of millions of residents of the periphery and slums of Brazil, are also part of our routine, as we live in the broken.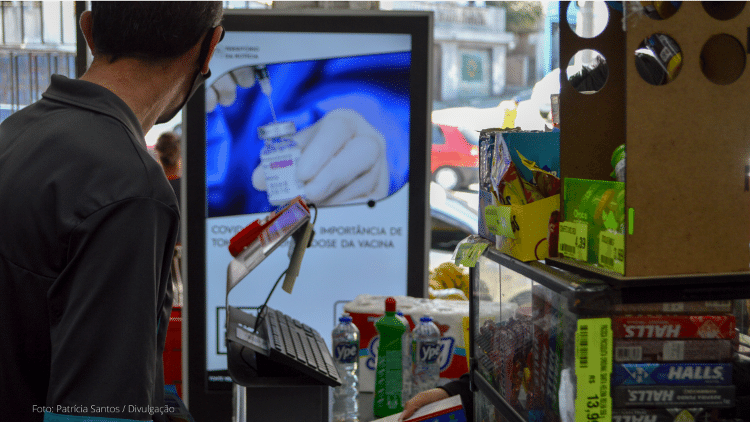 Residents of São Paulo's periphery and slums now consume news on digital totems inside the neighborhood's businesses
Image: Patricia Santos
To take our news further and further, reaching more people without losing quality and adapting to the socioeconomic context of our audience, which are the residents of the periphery and slums, which is often full of social inequalities, we reinvented ourselves to make information to get where you need it most.
Território da Notícia is a clear demonstration of this purpose: in partnership with other media from the periphery (Alma Preta, Periferia Em Movimento and Embarque No Direito), we created a solution for distributing and monetizing news, using digital totems installed in commercial establishments in neighborhoods. that have little or no access to the internet, so that the public in these places can consume news while going through the cashier to pay for groceries.
Currently, the initiative has 25 screens spread across the outskirts of the northern, eastern and southern regions of the city of São Paulo. But with the support of future investors, we will take this solution to other cities and states in Brazil. This demand is urgent.
In these nine years, we have not rested for a moment, always dedicating ourselves to promoting studies, debates, development of strategies and practical solutions that allow our readers to better pay attention to the capacity of residents of the periphery and slums to produce knowledge, public policies and new technologies.
As a result of this work, Desenrola has already been awarded by the Google News Initiative, Artigo 19 and Internews, organizations with national and global operations, which value the social impact of journalism, freedom of expression, the dissemination of reliable information and the plurality of voices in the world, due to the fact that Desenrola presents innovative proposals that go beyond the traditional role of informing.
And for you to learn more about these innovative actions in Brazilian journalism promoted by Desenrola, follow our work here at Broken Tech column and on our news portal, and strengthen diverse and peripheral journalism.
* Ronaldo Matos is a journalist, educator, researcher of information and communication technologies in urban periphery contexts. He is editor of the peripheral journalism portal Desenrola E Não Me Enrola.