Recently, billionaire Elon Musk, owner of companies such as Tesla (automobiles), SpaceX (aerospace systems) and now Twitter, said he lived in a simple residence and did not own luxurious properties. However, the businessman owns a private plane Gulfstream G650ER, one of the most luxurious in the category and a favorite of the rich.
The plane has an initial price of around US$ 70 million (R$ 349.3 million), a value that varies according to the configurations that each customer chooses for their jet. The model's cruising speed is around 950 km/h, but it has already set a record of 1,110 km/h.
This luxury that Elon Musk allows himself to have can take him virtually anywhere in the world with, at most, one stop. This is because the G650ER has a flight range of up to 13,890 km without having to land for refueling.
With that, he can fly nonstop from São Paulo to cities like London (England), Moscow (Russia) or New York (USA).
Spacious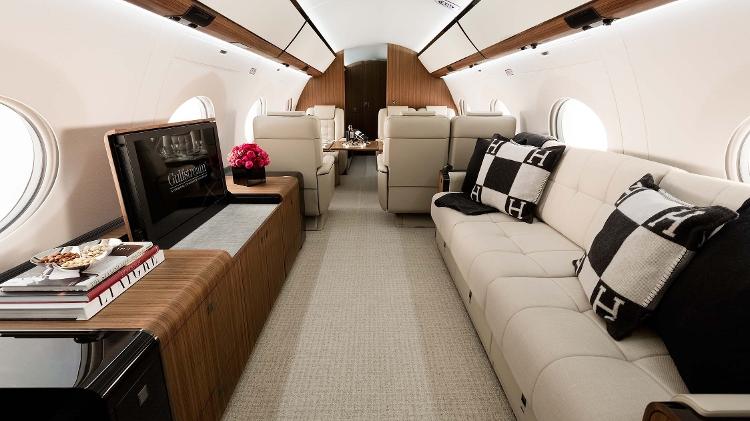 Gulfstream G650ER features up to four indoor environments depending on the chosen configuration
Image: Gulfstream
The plane holds up to 19 passengers (seated) or ten, when configured as a sleeper. Among the factory layouts offered, there is also the possibility of four separate areas, which can carry up to 16 passengers.
When configured for three livings, it is possible to carry up to 13 passengers or six people lying down. In this mold, there is a galley (a kind of kitchen) at the front of the plane and an exclusive compartment for a flight attendant.
See the technical data sheet of the plane:
Model: G650ER
Manufacturer: Gulfstream
Passengers: Up to 19 (plus two crew members)
Outer Length: 30,4 metros
Wingspan (distance from tip to tip of wing): 30,35 metros
External height: 7,82 metros
Passenger cabin height: 1,91 metro
Passenger cabin width: 2,49 metros
Passenger cabin length: 16.33 meters (including luggage space)
Maximum Flight Altitude: 15.545 metros
Autonomy: 13.890 km
Maximum take-off weight: 46.99 tons
Max fuel capacity: Up to 21,863 kg
more jets
Musk's G650ER is registered to the Falcon Landing company, which the billionaire owns. This is common practice, and you can see that Musk also has two other registered Gulfstream aircraft at his disposal.
The other two planes are the G550 model, which is smaller compared to the G650ER. It was discontinued by the manufacturer, with the last units being delivered in 2021.
Other billionaires like the model
The G650ER is also the darling of other billionaires. Microsoft founder Bill Gates owned two Gulfstream G650ERs until the beginning of the year. Today, he has only one, in addition to other aircraft models.
The billionaire says he feels "guilty pleasure" for owning his planes, due to the emission of pollutants related to aviation.
In addition to Gates, Jeff Bezos, founder of Amazon, also chose a Gulfstream G650ER to fly. In Brazil, businessman Abilio Diniz, former owner of Pão de Açúcar, also has a G650 family plane to fly.
tracked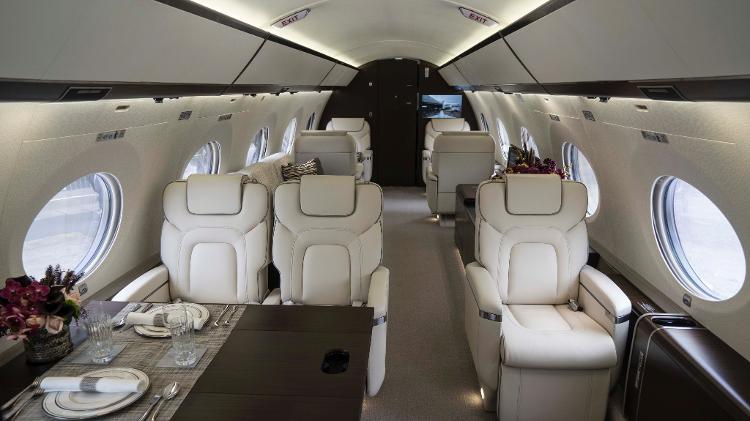 Gulftsream G650ER, same model as Elon Musk
Image: André Porto/UOL
In 2020, Jack Sweeney, a young man born in 2002 in the US, began to annoy Elon Musk on social media. That's because he created a Twitter account where he monitors the billionaire's flights in his private plane.
The profile on the social network has more than 428,000 followers and is just one of 25 accounts that monitor other aircraft of celebrities, billionaires, oligarchs, as well as government planes. Musk even offered $5,000 at the time to stop his jet from being tracked, but the young man declined.
More recently, Sweeney said he wouldn't stop tracking the plane, even with Musk's Twitter purchase. He posted the link to the other social networks and services that continue to publicize the flights taken by the monitored jets, such as Instagram and Discord.