What is the difference between lava and magma? – Question from Camila Vale, Rancho Queimado (SC) – do you want to send a question too? Click here.
Hot question, burnt ranch dude. And very simple to answer too: both lava and magma are names for that incandescent broth formed by molten rocks. The difference is that magma is contained below the surface. When it comes to the surface, it is called lava.
But calm down, the matter hasn't cooled down yet. There are other important differences in the composition of magma. The type of molten sediment beneath the Earth's crust determines the shape of volcanoes and how lava spreads after an eruption.
According to British National Geographic, the magma that lies beneath Hawaii, for example, is mostly made up of the crust that forms the bottom of the Pacific Ocean. The so-called mafic (or basaltic) magma is rich in iron and contains less silica, a component of glass and quartz.
Because of these characteristics, mafic magma is very liquid, with a viscosity that varies between molasses and peanut butter. Also according to the report, mafic magma reaches temperatures in the range of 1,000ºC to 1,200ºC.
This fluidity is key to determining two characteristics of Hawaiian volcanoes — and all others formed by mafic magma — eruptions are less explosive and lava flows forming more "spread out" volcanoes whose wall slope is gentle. Check out the following photo of the iconic Kilauea: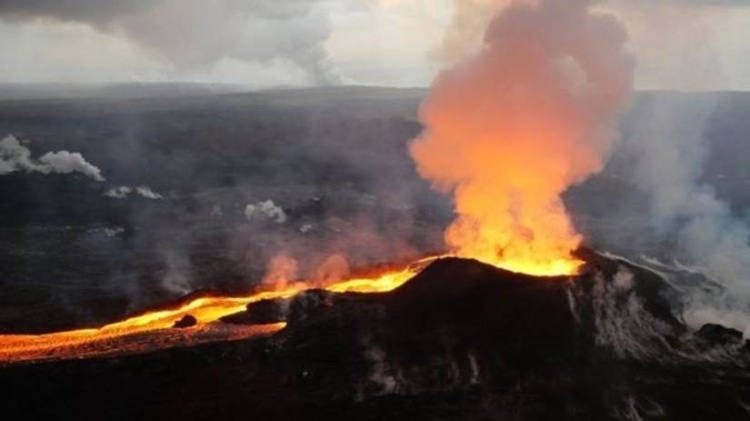 The Hawaiian volcano Kilauea is considered the most active in the world
Image: AFP/Getty Images
Silicic (or felsic) magma, in turn, is formed by the melting of continental crust and contains more than 63% silica. Because of this composition, its viscosity is higher —imagine lard flowing, as the NatGeo report suggests—and its temperature is lower, between 650ºC and 800ºC.
Because it is "cooler" and more viscous, silicic magma makes it difficult for the gases dissolved in it to escape. So when this magma reaches the surface — and technically turns to lava — the encapsulated gases form bubbles and cause a wave of steam that makes the eruption more explosive.
This characteristic, shall we say, more violent, forms volcanoes with steep shapes, like Pinatubo, in the Philippines, which recorded the second largest volcanic eruption of the 20th century, in 1991, expensive rancho-queimadense.
Have a question? Leave it in the comments or send it to us by WhatsApp.