In recent days, videos of supermarket shelves with bags of rice, beans and noodles neatly arranged, lined up and even shaped like houses have gone viral on his TikTok page. The creator of the look, replenisher Leandro Vieira, 39, projects ideas in his head, without resorting to pencil and paper or other tools.
He works at a supermarket in the district of Galante, in Campina Grande (PB), works eight hours a day, from Monday to Friday, and has managed to find a way to make his work different. The desire to post the result on the internet came after watching various content on the social network of short videos and believing that there was space for their activity.
He claims he doesn't plan the arrangements in advance. Each assembly takes 30-40 minutes to complete. "It was something that came to my mind, on a daily basis. Today I made a little house out of rice and another one out of cornmeal", stated Vieira in a conversation with UOL on Monday (25th).
The repositor lives in the city of Fagundes, just over 25 kilometers from his work, where he started a year ago. The short videos of product montages, usually accompanied by a piseiro soundtrack, started to be published in November 2021, but it was only in the last few weeks that they bombed on TikTok.
His publications on the social network accumulate 2 million views. Outside the virtual world, he sees manifestations of recognition for his work. "People congratulate me, say I'm famous and running on social media."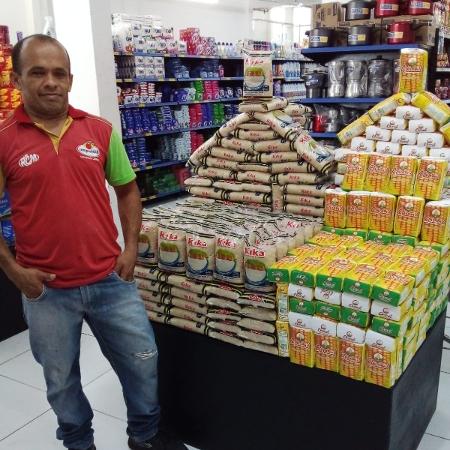 Leandro Vieira became a success on TikTok after publishing videos of his work
Image: Personal archive
High price strategy
In times when basic food is increasingly expensive, Vieira says that his work draws customers' attention to purchase. "Today everything is more expensive, the price goes up every day, right? Sometimes they come just to look at the price of rice and beans, see the beautiful and well-done business and carry at least 1 kg so they don't leave empty handed."
Inside the house, Leandro Vieira shares tasks with his wife Verônica, who dedicates a good part of her day to taking care of a special son, Carlos Alexandre, who was born with sickle cell anemia. Who keeps the purchases, of course, is him. "I keep everything well organized."
With the repercussion of his work on the internet, Leandro hopes to win a promotion at the supermarket and, who knows, teach his craft to other colleagues.