Twitter announced this Tuesday (3) that it is testing a new feature, called Twitter Wheel, in which users have the option of restricting their tweets to a select group of 150 people of their choice, including followers and not. followers.
The proposal is similar to what already happens in other social networks, such as the Best Friends function on Instagram and Google+. For now, the new feature, which has been part of Twitter's list of functions in the past, is not available to everyone and only a few users have been contemplated to test it.
"We are now testing Twitter Circle [Roda do Twitter, em português]which allows you to add up to 150 people who can see your tweets when you want to share with a smaller audience," the company said in a statement. @TwitterSafety.
Certain Tweets are for everyone, while others are for the select few. You decide! The Twitter Wheel allows you to add up to 150 people who will receive exclusive Tweets when you want to speak to a small audience. Available in trial version, for some of you. pic.twitter.com/a6GCW1TMAL

— Safe Twitter 🇧🇷 (@TwitterSeguroBR) May 3, 2022
How will it work
When posting a tweet, the person can choose the audience that will receive it: Twitter Circle or Everyone. If the person chooses the "private" post, only that select group will be able to read and reply to the tweet.
It is important to note that this small audience will not be able to retweet when the post has been restricted. Of course, this does not prevent screenshots or downloads of any content on Twitter.
It will also continue to be possible to make public posts for everyone on this social network. Since Twitter does not allow an account to be private, the company's idea is that users will now be able to block certain tweets for their select group rather than an entire account.
The user will also not be "stuck" with the 150 people he has chosen to include in his initial circle. It is possible to edit the selection of friends, removing or adding other people, as long as the number is limited to 150.
Whoever is in a circle cannot withdraw from it, but it is possible to silence the discussion.
According to Twitter, this feature is different from its Communities, which also deprive tweets, but are intended to be restricted to specific discussions, whereas Circle is just standard tweets that are not available for everyone to see.
For now, the chosen few who will have access to the Twitter Circle can only create a single Circle, and only the person who creates the Circle can see the list of people in it. The feature is available to them on iOS, Android and the web.
repercussion
The new function has already divided users on Twitter. One of them, identified as Jim (@n_equals_42), commented that the improvement suggestion is good, but the number allowed within the select group, 150 people, is too low, especially for those who have a lot of followers.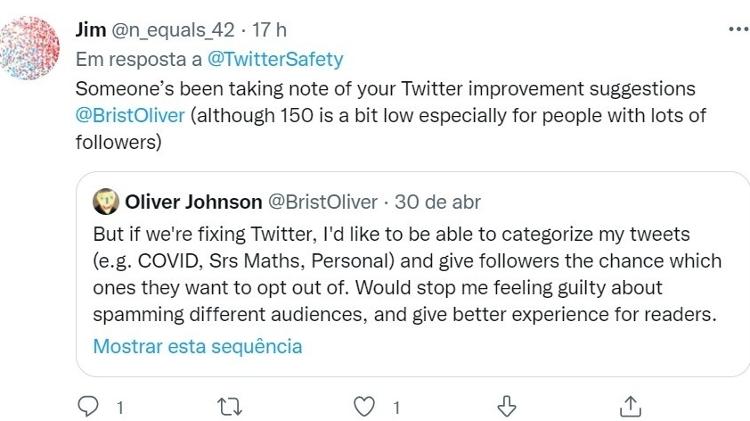 Image: Reproduction Twitter
Already the profile Laura G (@IndieLauraSDG) suggested that Twitter give users the option to have a private account only to their followers: "It would be amazing to be able to restrict these tweets to a special circle OR just followers".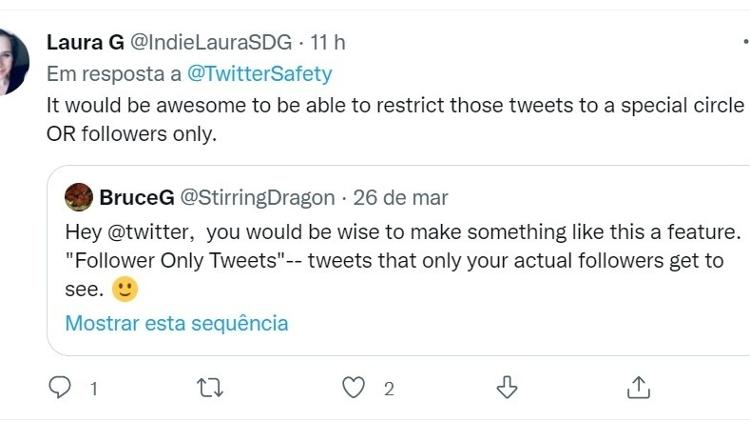 Image: Reproduction Twitter
David Penfold (@PenfoldDavid), another user of the social network, said he's not sure this feature is a good idea. "Could potentially create echo chambers," the post said.

Image: Reproduction Twitter
The phenomenon of echo chambers, also known as ideological echo chamber or bubble filter, is a metaphorical description of a situation in which biased information, ideas or beliefs are amplified or reinforced by communication and repetition within a group, especially within a group. digital medium.
The addition of this feature comes after a pretty tumultuous few weeks for Twitter, involving the purchase of the company by billionaire Elon Musk. Despite this, corporate backlogs did not prevent the company from testing new functions.
The feature has been in the works since at least last year, appearing branded "Trusted Friends" and "Facet" for settings, and earlier this year under the name "Flock".