Social media accounts using stolen photos of famous and unknown people are tweeting in favor of Russia in the global south.
Indian digital influencer ER Yamini has never posted a message on Twitter in her life — she prefers to cultivate her large fan bases on Instagram and YouTube.
However, in early March, a Twitter account using his photo tweeted: "#IStandWithPutin. True Friendship", accompanied by a video showing two men hugging — one representing India and the other Russia.
Yamini says she doesn't support any country in the war between Russia and Ukraine and worries about what her fans will think of her.
"If they see this tweet, what will they think of me?"
"I wish they wouldn't use my picture in that profile," she tells the BBC.
The fake account is part of a network that promotes Russian President Vladimir Putin on Twitter, using the hashtags #IStandWithPutin ("I stand with Putin") and #IStandWithRussia ("I stand with Russia"). on the 2nd and 3rd of March. Hashtags became trending topics in different regions — particularly in the southern hemisphere, in countries like India, Pakistan, South Africa and Nigeria, as if these nations were showing support for the Russians.
Some of the activity monitored was organic—in other words, produced by real people—reflecting genuine support in some countries for Putin and Russia.
But many other profiles appear to be fake. They retweeted posts in large quantities, produced little original content, and were created very recently.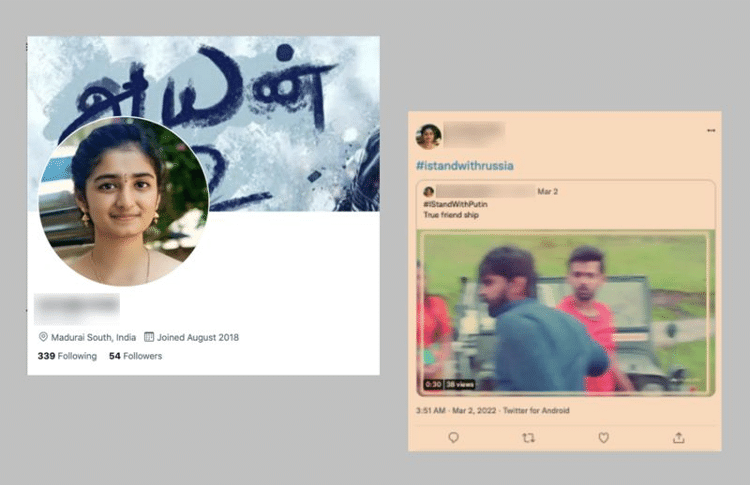 Hashtags #IStandwithPutin and #IStandwithRussia became trending topics in several countries, but some accounts tweeting were not authentic
Image: Twitter
"These profiles were likely produced by bots, fake profiles or compromised accounts, artificially amplifying support for Putin in these countries," says Carl Miller, co-founder of CASM Technology, a company that specializes in online disinformation.
CASM Technology identified 9,907 profiles promoting support for Russia on March 2 and 3, in several different languages. And it found that over a thousand of those accounts had spam-like characteristics.
The BBC analyzed hundreds of these seemingly inauthentic profiles. And our investigation confirms Miller's findings—they try to pass themselves off as genuine, but they're actually false.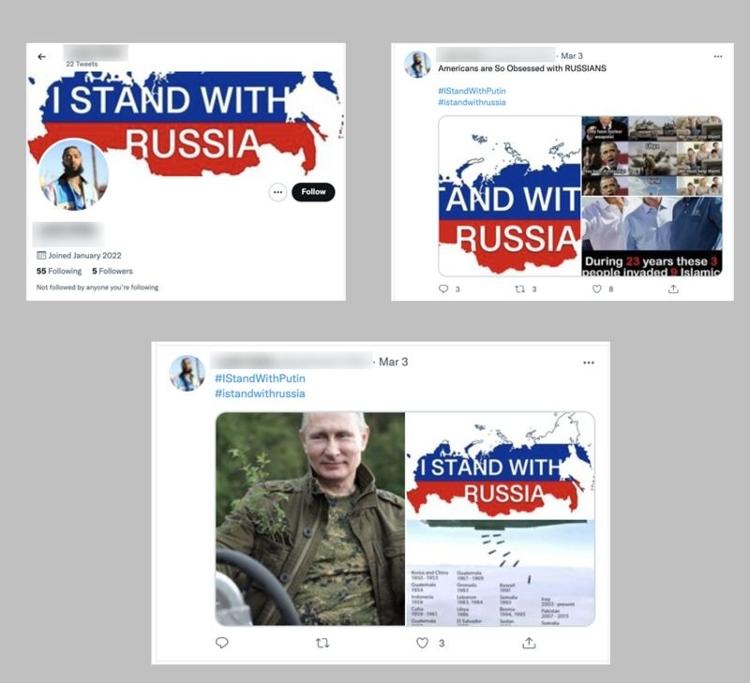 American rapper Nipsey Hussle, killed in Los Angeles in 2019, had his photo used by an account promoting Putin
Image: Twitter
Through reverse image search, we found that the photos used by these profiles were stolen from celebrities, influencers, and ordinary users, who had no idea that their images were being used to support Russia in its war against Ukraine.
However, we were unable to determine who set up the accounts or if they have any connections to the Russian government.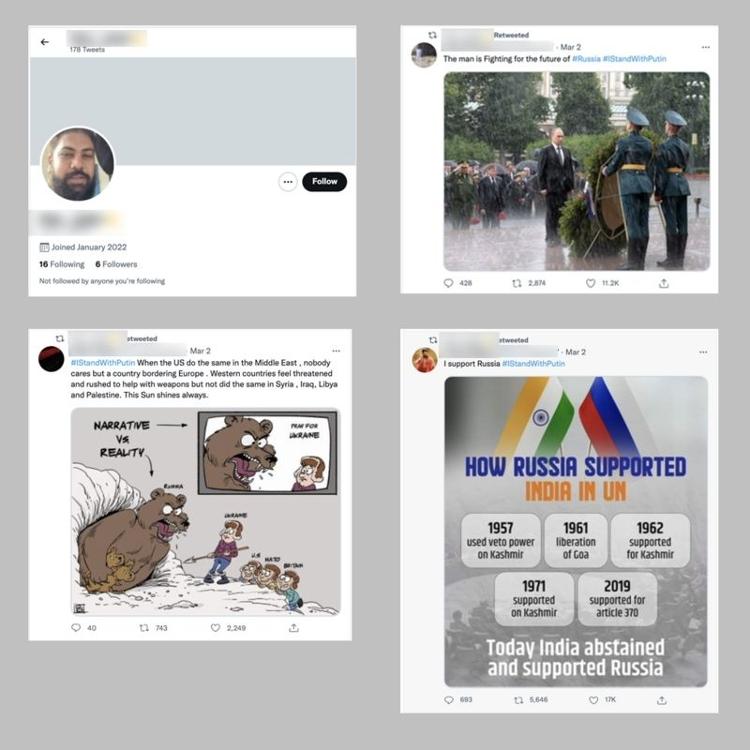 This account was created in January 2022, but its first tweet was posted on February 24, the day Russia invaded Ukraine.
Image: Twitter
An account called Preety Sharma, for example, claims in its description that it is a "model and businesswoman" from India, now living in Miami. It was created on February 26, two days after the invasion of Russia. "Putin is a good person," she says, in one of her retweets.
But the woman pictured in the account's profile picture is on the other side of the world. Nicole Thorne is a digital influencer from Australia who has 1.5 million followers on Instagram and only occasionally uses her original Twitter profile.
Another account tries to impersonate Indian singer Raja Gujjar. His first tweet was posted on February 24, the first day of the invasion. And all 178 posts on the account are retweets, a strong indicator of automation.
The BBC reached out to Thorne and Gujjar, and both confirmed that these accounts were not theirs.
While very similar to a bot, not all accounts investigated were inauthentic.
Take, for example, a profile, created in February 2022, with tweets starting on March 2nd. He has no followers. By doing a reverse search on the profile picture, the BBC found the account of a young Indian man on LinkedIn.
Image: BBC
But it is authentic and created by Senthil Kumar, an aeronautical engineer. We asked why he created an account just to retweet pro-Russian messages.
"I usually open Twitter and see what's trending. So I saw those posts and just retweeted them," he says. Kumar believes that Russia supported India in the past, and Indians must now support Russia. And his profile was new, he adds, because he had forgotten his previous account password.
'Western'
The accounts tweet a mix of criticism of Western countries, express solidarity between so-called BRICS countries (Brazil, Russia, India, China, South Africa) and offer direct support to Putin.
"We adopted the idea that the information campaigns will be directed to the West. However, none of the reports referred to the West or claimed to be from the West," says Miller.
To identify what might be a group of inauthentic accounts, he adds, the researchers look at the accounts' creation dates, a "non-human" tweet pattern (such as an account tweeting 24 hours a day), and the variety of topics being tweeted. .
"None of these things can be considered evidence, but they all add up to allow us to see if a particular community of accounts looks suspicious," says Miller.
The lack of a genuine profile picture can also be a telltale sign.
From a sample of 100 accounts tracked by CASM, the BBC identified that 41 did not have profile pictures. Another 30 had illustrations or photos of personalities such as Putin or Facebook CEO Mark Zuckerberg. Only one room had pictures depicting people — and some of them were stolen.
Twitter prohibits the impersonation of "individuals, groups or organizations to mislead, confuse or mislead others".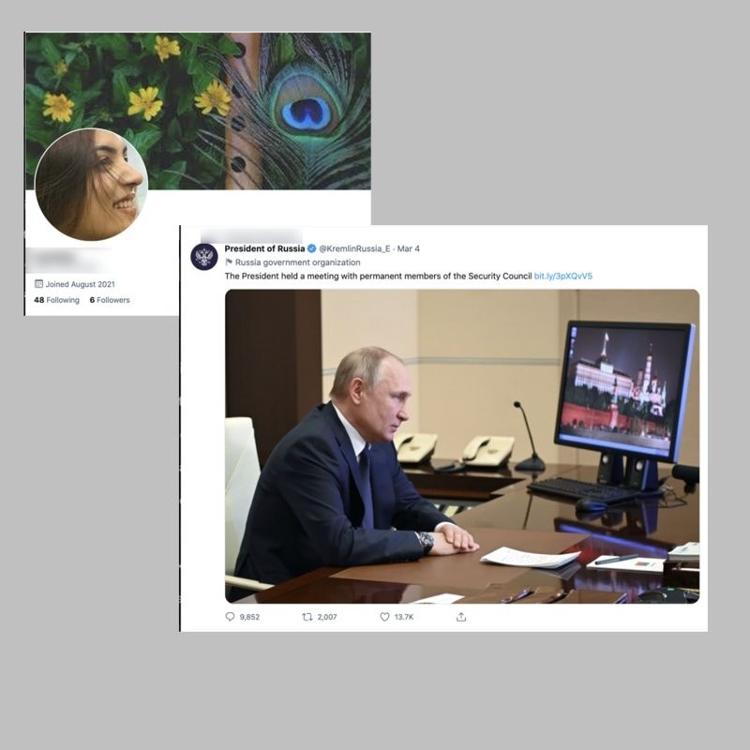 Twitter removed 11 of 12 accounts specifically singled out by the BBC for using photos of others, including this one of Indian actress Nazriya Nazim.
Image: Twitter
The company tells the BBC that since the beginning of the war it has removed more than 100,000 accounts for violations of its platform manipulation and spam policy, including the suspension of dozens of accounts connected to the hashtags #IStandWithRussia and #IStandWithPutin.
Twitter adds that it has investigated and suspended hundreds of accounts singled out by the CASM survey and shared by the BBC, including 11 of the 12 accounts specifically singled out by our team of journalists for using other people's profile pictures.
But the company claims it has found no evidence of widespread coordination to artificially amplify sentiment around the war in Ukraine.