Inspired by fireflies, scientists from MIT (Massachusetts Institute of Technology), in the United States, created robots the size of insects, which emit light to communicate with each other and can help in rescue missions, taking advantage of them. if its minimum dimensions.
According to Professor Kevin Chen, author of the study responsible for developing the invention, large robots can communicate using multiple technologies, such as Bluetooth, for example. But for small robots, it is necessary to think of a form of communication that can be fast and efficient. The information is from the MIT News website.

The inspiration for the technology came from nature itself: real fireflies use their luminescence for communicative purposes, such as approaching a mate for reproduction, scare away predators or, on the contrary, to attract their prey. With this idea in mind, the group of scientists led by Chen created artificial electroluminescent muscles for flying robots, the size of small insects.

Its application in real life can serve a multitude of purposes. One of them is, as already mentioned, in rescue missions.
For example, in the debris of an explosion. They can enter places humans and larger robots would not be able to reach, search for survivors and, if they find them, emit light to alert other robots to call for help.
how they fly
So that it could fly, the first step in the MIT team's research was to create artificial muscles with extremely thin layers of elastomer, a polymer with elastic properties, and carbon electrodes, wrapped in a cylinder.
When voltage is applied to this cylinder, the electrodes compress the elastomer, generating a mechanical tension that causes the wings to flap. The result is that the built electronic insect weighs a little more than a paper clip.
Because they were so tiny, they couldn't carry sensors. After experiencing some difficulty with this limitation, the scientists added tiny electroluminescent particles to the artificial muscles, which increased their weight by just 2.5%. This small increase does not interfere with the flight, solving the problem.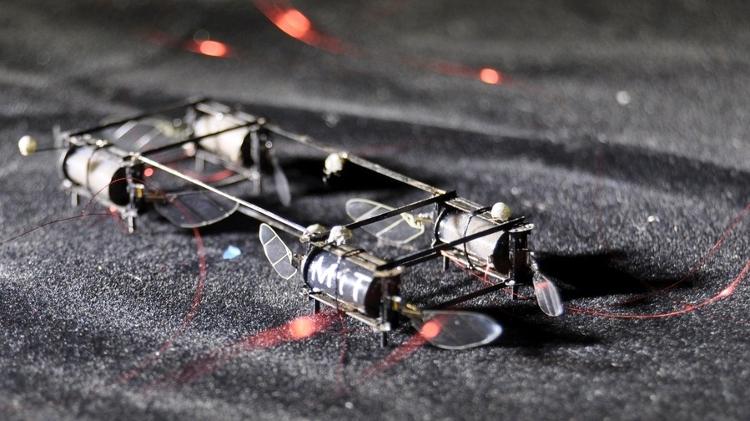 Detail of the created robot
Image: Reproduction/MIT
how they light
When we say that particles are electroluminescent, this means that they produce light from the collision of electrons — cell phone screens do this from an electric current from the battery.
To manufacture them, the team incorporated electroluminescent zinc sulfate particles into the elastomer, which in itself created other major difficulties.
First, the researchers had to develop an electrode that didn't block light. For this, they used transparent carbon nanotubes, through which light could pass.
But zinc particles only emit light in the presence of a strong, high-frequency electric field. This field excites electrons in the zinc particles, which then emit subatomic particles known as photons, components of light.
To address this issue, the researchers then used high voltage to create the strong electric field in the muscles and then fired the robot at a high frequency. In this way, the particles produced were able to emit an intense light.
The team's next step was to change the chemical combination of the zinc particles, generating lights of different colors: orange, green and blue. Thus, multiple messages could be transmitted by artificial fireflies.