WhatsApp last week announced the expansion of features to increase online privacy. By changing some settings, it is possible to hide personal information from curious people and from other people's stalkers. If you want to learn how to do it, we've prepared a guide for you to define who can see it:
Your profile picture: a personal image added to the app that appears as a thumbnail in the message list. Status: works like Instagram Stories. It allows you to share texts, photos, videos and Gifs that are visible for 24 hours to people who have your phone number saved. 'Last seen': shows the time when you last entered the application.
Why is it important to change the settings?
Limiting who can see your profile picture decreases, for example, the chance that someone will save the image and use it in a fake profile. Scams involving the cloning of WhatsApp are on the rise. In it, criminals impersonate you to trick your contacts into making bank transfers.
The "Last seen" shows when you had access to the cell phone and can be a problem if you have ignored the response to certain messages.
The status change is more for you to keep only what you want viewing your posts.
To change go to:
Android: Tap More options > Settings > Account > Privacy.iPhone: Tap Settings > Account > Privacy.Computer: Click More Options > Settings > Privacy.
Privacy in "Profile Photo"
Tap on "Profile Photo" and select the option you prefer between:
"All" – anyone can see this information, including strangers."My contacts" – only people with the number saved in their mobile phone book will be able to view it."My Contacts, except" – allows you to block the view of specific contacts, even if they are saved in the phone book."Nobody" – Not even your friends will be able to access it.
And confirm.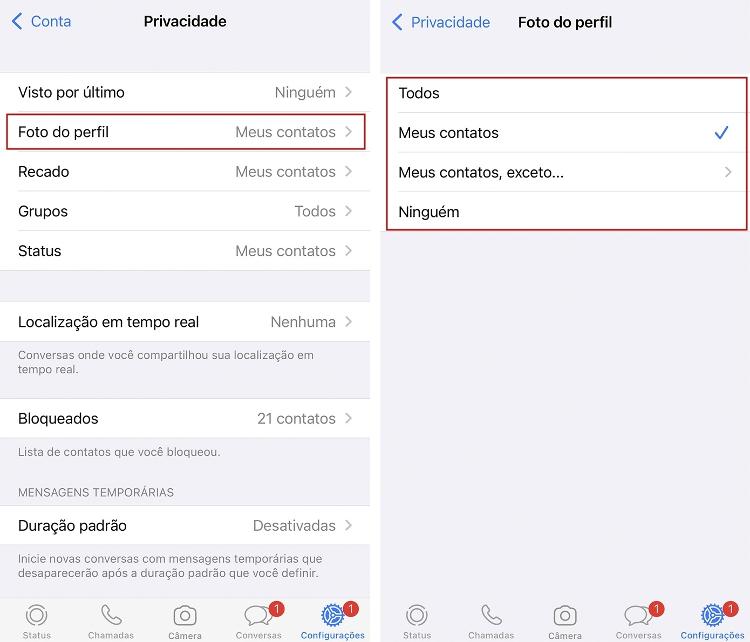 Example of iPhone screen settings
Image: Reproduction
Privacy in "Status"
Tap "Status" and check who you want to share the posts with:
"My contacts" – all the people saved in the phonebook."My Contacts, except" – limits that specific people can see the status."share only with" – allows you to choose only a few contacts to view 24-hour posts.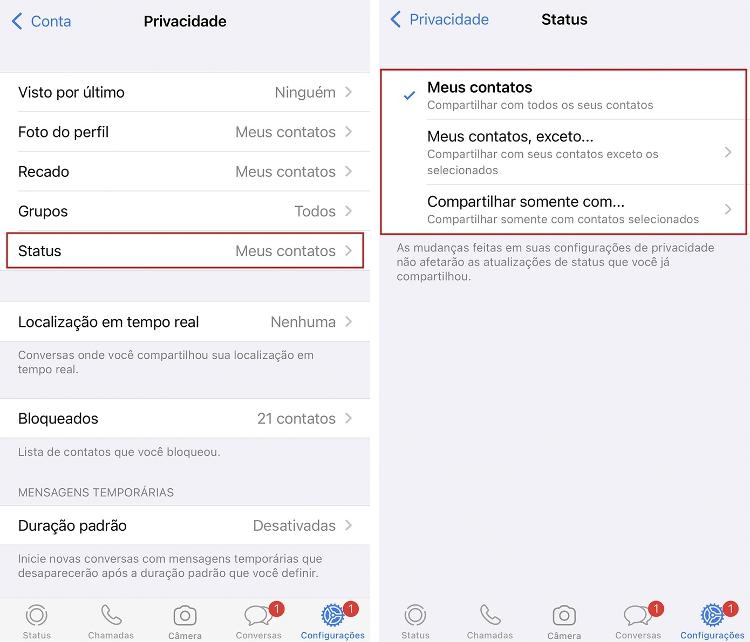 Changing the Status on an iPhone's Screen
Image: Reproduction
Privacy on "Last Seen"
Select "Last Seen" and select the option you prefer from the items below. They work like the previous ones:
"All""My contacts""My Contacts, except""Nobody"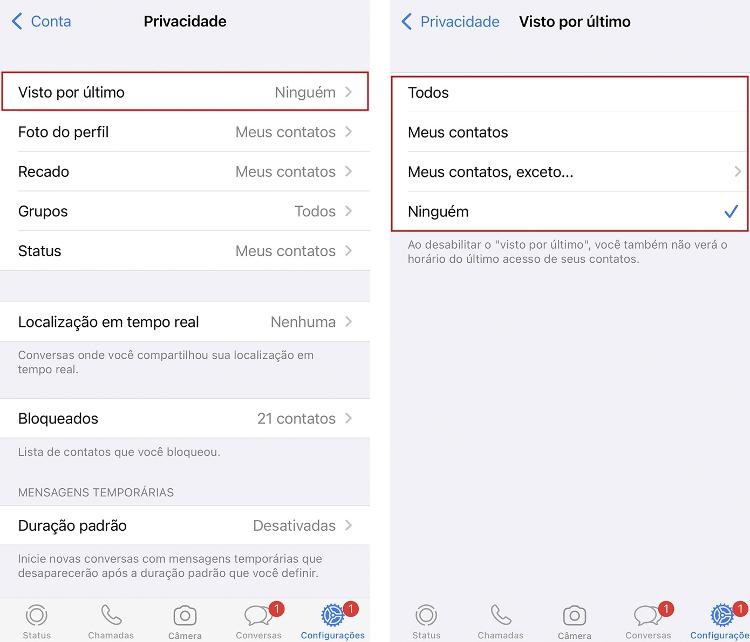 Configuration options to change who can have access to the last seen
Image: Reproduction
It's worth keeping an eye on WhatsApp always with the latest version of the app to receive updates for new features.
This can be done through the Google Play Store, in the case of the Android system, and in the App Store, for the iPhone system.