Amazon has released details on how its first fully autonomous robot works. It's the Proteus, designed to move around the facility on its own while transporting carts full of packages — it looks like a robot vacuum cleaner.
The information, published yesterday (21) on Amazon's website, highlights how technology helped the company improve its routines for employees and customers, as well as remembering the 10th anniversary of the purchase of the robotics company Kiva.
How Proteus works
The autonomous robot uses advanced security, perception and navigation technology to get around among employees.
In a video released by Amazon, a person gets in the way of the robot and it stops immediately, waiting for the displacement. You can see a green light emitted by for employee safety. Watch:
With this technology, Amazon claims that it is not necessary to place Proteus only in restricted areas. "It can operate in a way that enhances simple and secure interaction between technology and people — opening up a wider range of possible uses to help our employees," the company says.
Proteus will initially be deployed in the areas of handling objects that will go out to consumers and are in the fulfillment and sorting centers.
The idea, according to Amazon, is to reduce the need for people to handle heavy objects through the facility.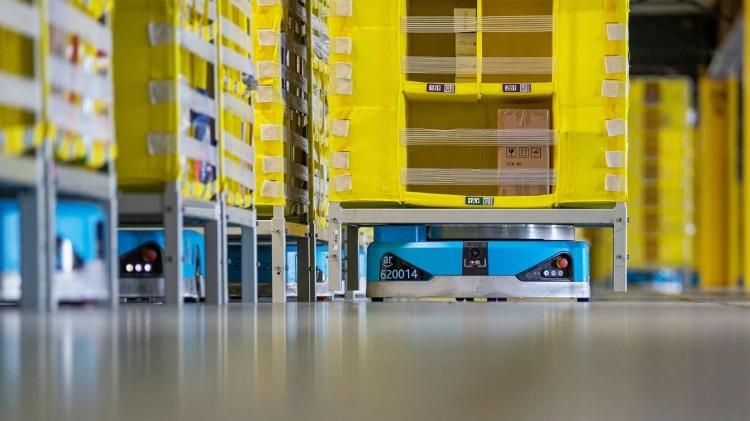 Proteus, an Amazon robot that helps with logistics
Image: Publicity/Amazon
Robot to reduce injuries
The company also showed another robot, called Cardinal, designed to reduce the risk of injury to employees.
Cardinal's work cell uses artificial intelligence (AI) to sort stacked packages, which brings "faster process time on premises," according to the company.
The robotic arm has the ability to pick up packages, read the labels and place them on carts so they are forwarded to the next shipping step.
The company is testing a prototype of the Cardinal for handling packages over 22 kilograms. If all goes well, this new technology will be deployed in the company's distribution centers next year, the company says.
Watch Cardinal at work:
10 years of Kiva
Amazon acquired Kiva Systems in 2012 for $775 million to improve supply chain productivity. At the time, it already had automation in distribution centers. But the investment was made betting on evolving the use of robots.
"The acquisition of Kiva was a big bet in anticipating the role innovation would play in helping us meet our customers' needs and make work safer, simpler and more productive for employees. It was a bold move and transformed our business." , published the company.
Speculation was that Amazon would aim to replace people with robots in the distribution line, something the company denies.
Amzon claims that more than 520,000 robotic drive units are spread around the world, which would have created around 1 million jobs.
In a recent interview with Forbes, the head of the company's robotics division stated that "replacing people with machines is just a fallacy".
In the statement celebrating 10 years of purchase of Kiva, Amazon also said that it created AR ID (Amazon Robotics Identification), a resource with computer vision and machine learning technology to "facilitate the scanning packages at our facilities".
Currently, workers must scan codes using handheld devices, but this new technology aims to eliminate this step. So employees would no longer need to pause while sorting packages, as they would be recognized by a camera that runs at 120 frames and is powered by AI.