By Pedro André Mendes on 2 July 2022 16:03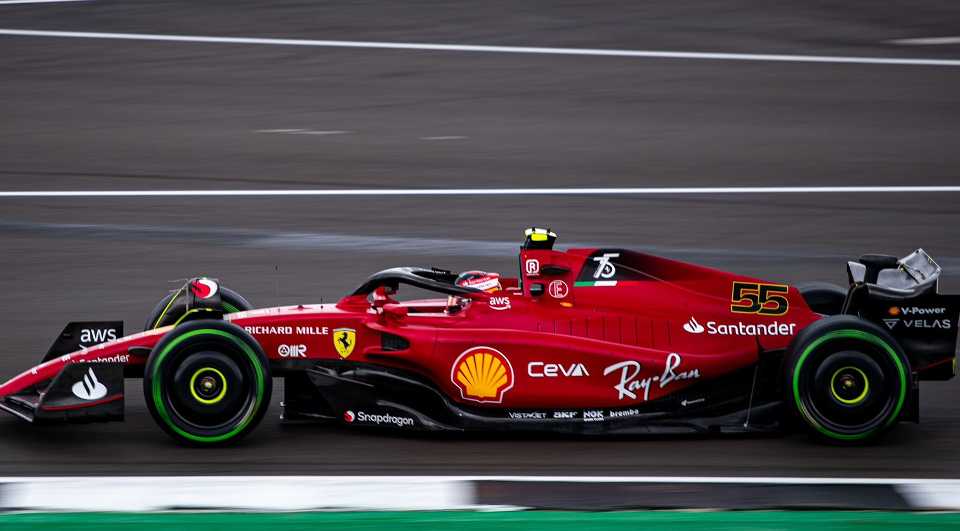 Carlos Sainz won his first pole position of his career in Formula 1, after surprising opponents in the complicated qualifying session of the British GP. Max Verstappen will start from second on the grid, while Charles Leclerc and Sergio Pérez will share the second row.
Unlike the two previous phases, Q3 started without rain, but with the track still wet. Therefore, the drivers were in a hurry to get out on the track and enjoy while it didn't rain again, but that wasn't the biggest news in Q3 of the British GP, it was Nicholas Latifi.
The Canadian driver didn't go out on the track like all the other nine drivers and when Max Vestappen was being the fastest driver on the track, he suffered a spinning top that aborted that attempt, leaving the top of the timesheets to Zhou Guanyu. The Alfa Romeo driver's time was beaten by Fernando Alonso, with 1:46.227s.
The Dutchman from Red Bull once again set the best records in sectors 1 and 2, but suffered again from the track conditions and went straight ahead in a corner in the last sector, not allowing him to move to the lead of the timesheets, with Leclerc take advantage and move forward with a time of 1:44.844s. Verstappen "avenged" the last two attempts, taking the lead with a time of 1:42.996s, followed by Lewis Hamilton 0.254s from his opponent when it started to rain more heavily.
With less than 3 minutes to go in Q3, the two Ferraris were away from the top places, but Leclerc tried to change that situation, moving to second. Hamilton wanted to intrude and returned to second place on the timesheets.
Carlos Sainz improved his time and placed himself with the fastest time, but Leclerc and Verstappen were coming on a fast lap. Verstappen returned to the top of the timesheets with a time of 1:41.055, leaving Leclerc 0.243 and Pérez 1.024.
Carlos Sainz responded in his last attempt and took first place, with a time of 1:40.893s, surprising everyone, including the pilot.
Dear reader, this is an important message.
Unfortunately Autosport cannot continue to make its articles available for free.
It is no longer viable to have a team of professional journalists without being able to sell the product of our work.
Just as newspapers and magazines are paid, digital editorial content will also have to be paid.
Please subscribe to Autosport Exclusive and help us keep this machine running!
It's only €2 per month, subscribe now HERE
continue reading
Dear reader, this is an important message.
Unfortunately Autosport cannot continue to make its articles available for free.
It is no longer viable to have a team of professional journalists without being able to sell the product of our work.
Just as newspapers and magazines are paid, digital editorial content will also have to be paid.
Please subscribe to Autosport Exclusive and help us keep this machine running!
It's only €2 per month, subscribe now HERE