Home > FORMULA 1 > F1 > Great Britain F1 GP, Lando Norris: "our race must be with Alpine and Alfa Romeo" By José Luis Abreu on 2 July 2022 18:10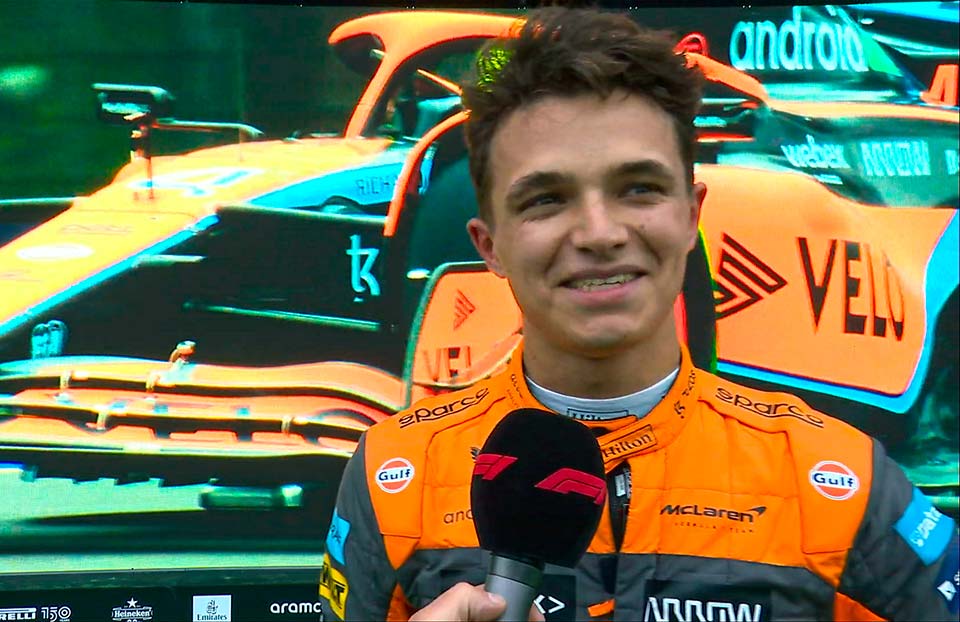 Lando Norris finished qualifying in a good sixth place, and will share the third row of the grid with Lewis Hamilton. The McLaren Englishman is pleased to have been able to beat the other Mercedes, George Russell:
"It was tough, especially when it rained and then it stopped, then it started again, it was very difficult with the grip, I tried to do a perfect lap when the conditions were better, but I'm happy with sixth place. It's nice to be in front of a Mercedes and not be too far behind Hamilton. I think he made good progress on the last lap and I made some mistakes. It wasn't an ideal job on my part. In the race, I think Russell should pass us quickly, they are much faster, and our race should be with Alpine and Alfa Romeo, with Fernando (Fernando) and (Guany) Zhou.
I think it will be a good race, especially with Fernando. We've been in a good position this weekend, which is a bit surprising because I think we're the only team that hasn't made any improvements. Many teams have evolved, so being in this position is good for us. If I can hold the position, I'm happy".
Dear reader, this is an important message.
Unfortunately Autosport cannot continue to make its articles available for free.
It is no longer viable to have a team of professional journalists without being able to sell the product of our work.
Just as newspapers and magazines are paid, digital editorial content will also have to be paid.
Please subscribe to Autosport Exclusive and help us keep this machine running!
It's only €2 per month, subscribe now HERE
continue reading
Dear reader, this is an important message.
Unfortunately Autosport cannot continue to make its articles available for free.
It is no longer viable to have a team of professional journalists without being able to sell the product of our work.
Just as newspapers and magazines are paid, digital editorial content will also have to be paid.
Please subscribe to Autosport Exclusive and help us keep this machine running!
It's only €2 per month, subscribe now HERE