Wristbands that measure physical activity are increasingly accessible, and one of the most famous models recently received an update. Xiaomi launched the Smart Band 7 last week (the company no longer uses the Mi Band nomenclature).
The model maintains the thin and discreet look, has a slightly larger screen, has new physical activity measurement modes, in addition to new faces. It has a suggested price of 50 euros (about R$ 276) in Europe – there is still no date to arrive in Brazil, but the model, like all the others, should be available here soon.
Check out the details of the new Smart Band 7 below:
bigger screen
The display of the new Smart Band 7 is 1.62 inches (about 4.1 centimeters), slightly larger than the predecessor model Mi Band 6, which had a 1.56 inch (4 centimeters) screen.
Xiaomi says that the larger screen gives a 25% increase in display visibility, making it easier to see information in addition to increasing the clarity of the image.
Training modes, health and wellness
For those who use the bracelet to measure physical activities, the Smart Band 7 has 110 sports modes, such as pilates, baseball, swimming, among others.
This time, the bracelet also has health and wellness modes. Then, based on her activities, she should suggest a break time. There will also be a mode called "effect training" which, based on your exercises, will tell you the "quality" of your aerobic and/or anaerobic training.
The Smart Band 7 measures VO2 max (a person's maximum volume of oxygen during an exercise) during exercise. This measure helps to check the person's aerobic capacity, and can indicate whether the intensity of an exercise, for example, is light or heavy.
As in the other models, the bracelet also measures heart rate, sleep and SpO2 (oxygen saturation), a measure that usually indicates respiratory capacity – during the covid-19 epidemic, some people resorted to this measure to know if they had their lungs. committed.
new faces
Personalization is not an issue for the Smart Band 7. There are now over 100 faces available for anyone who wants to change the "face" of the band. There are dials in different colors and with different characteristics (some only show the time, while others have a step counter and even a weather forecast).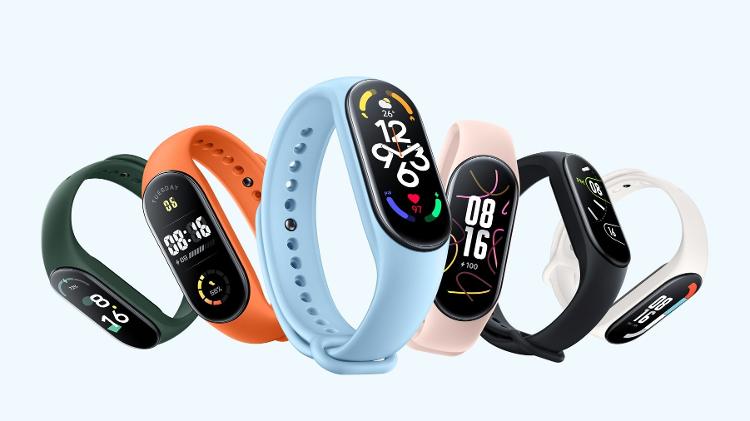 Xiaomi Smart Band 7
Image: Disclosure
Up to 50 meters underwater
Previous versions of the Xiaomi bracelet were already waterproof. In this one, the manufacturer promises a resistance of 5 ATM, which, in small terms, means that it can withstand a depth of 50 meters.
more battery
Unlike smart watches, bracelets tend to have greater autonomy. In Smart Band 7, Xiaomi promises 14 days of moderate use, and up to 9 days of intense use. The battery cell is 180 mAh (milliampere hour).