Home > Rally > ERC > ERC/Latvia Rally: Martin Sesks in front By José Luis Abreu on 3 July 2022 00:04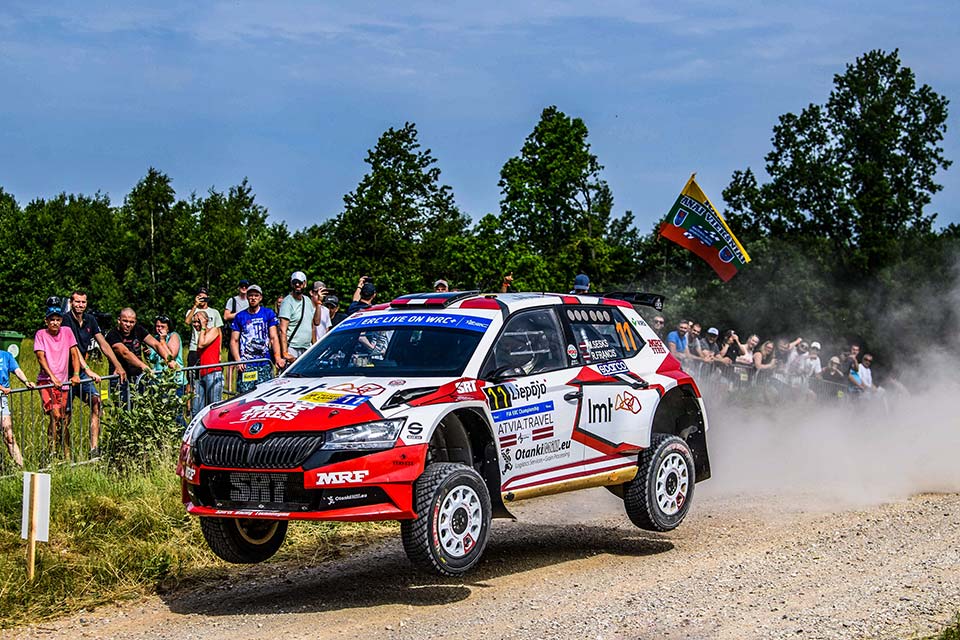 Local hero Mārtiņš Sesks had an almost perfect first day of Rally Latvia, taking a good lead in 'his' home event. Sesks – who comes from exactly the host city of the rally – is in the process of moving from the ERC Open to the top category of the ERC and on this 1st day he was simply untouchable aboard his new Skoda Fabia Rally2.
The 22-year-old is, along with his teammates from Team MRF Tires, debuting a 'brand new' tire from the Indian manufacturer, and wasted no time in showing off his performance.
Sesks had a flawless drive on the high-speed dirt stages, winning all six stages in the Talsi region, putting him ahead of his teammate and championship leader, Efrén Llarena, by 22.9s after day one. proof: "I'm actually a little surprised," said Sesks. "There are a lot of places I can improve – not just by being faster, but by being accurate, and so on."
"There were areas in the second stage where you can go deep, but there are also places where there are some very tricky areas and some rocks. Twenty-two seconds seems pretty good for a first day, but if I make a mistake then there's no margin, so now we're in the fight, but I have to be fast and at the same time be a little conservative."
Llarena enjoyed a problem-free drive throughout the opening day, despite having difficulties judging braking points in some areas. The Spaniard remains on course to extend his championship lead over rival Nil Solans, who dropped from third to 13th when his Hyundai i20 N Rally2 suffered a puncture in the final stage.
Solans' Kowax Racing teammate Tom Kristensson was 9.4s off Llarena but moved up to third overall, holding a 6.1s edge over rookie Mikko Heikkilä (Skoda Fabia).
In fifth place overall was Ken Torn. The Ford Fiesta Rally2 driver struggled with Heikkilä throughout the day, but lost some ground to his rival in the last stage. He finished just 1.4s ahead of fellow Estonian Gregor Jeets, who drives a Skoda.
Vaidotas Zala rode well on three stages, but was forced to settle for seventh overall when his Skoda Fabia came to a stop after a spin on the PE6, while Hayden Paddon is eighth after his Hyundai was a little roughed up after a quick left as the New Zealander slid off the road.
Classification
M Sesks / R Francis (LVA) Škoda Fabia 43min 50.8secE Llarena / S Fernández (ESP) Škoda Fabia +22.9secT Kristensson / A Johansson (SWE) Hyundai i20 +32.3secM Heikkilä / S Vaaleri (FIN) Škoda Fabia +38.4secK Torn / A Toom (EST) Ford Fiesta +45.6secG Jeets / T Taniel (EST) Skoda Fabia +47.0sec Caro leitor, esta é uma mensage importante.
Unfortunately Autosport cannot continue to make its articles available for free.
It is no longer viable to have a team of professional journalists without being able to sell the product of our work.
Just as newspapers and magazines are paid, digital editorial content will also have to be paid.
Please subscribe to Autosport Exclusive and help us keep this machine running!
It's only €2 per month, subscribe now HERE
continue reading
Dear reader, this is an important message.
Unfortunately Autosport cannot continue to make its articles available for free.
It is no longer viable to have a team of professional journalists without being able to sell the product of our work.
Just as newspapers and magazines are paid, digital editorial content will also have to be paid.
Please subscribe to Autosport Exclusive and help us keep this machine running!
It's only €2 per month, subscribe now HERE