Home > FORMULA 1 > F1 > Great Britain F1 GP, Carlos Sainz: "I couldn't ask for more By Pedro André Mendes on 3 July 2022 17:47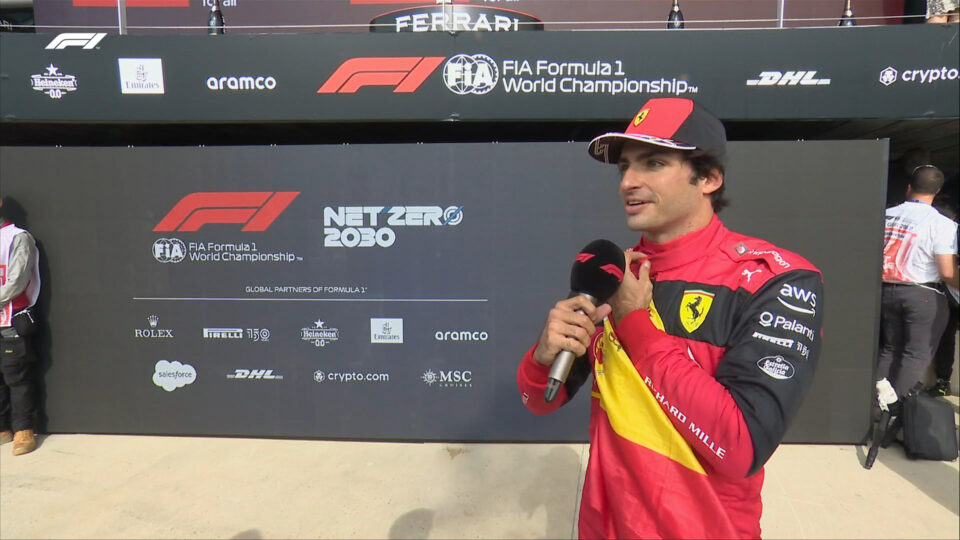 Carlos Sainz was the 40th winner of a Formula 1 GP. At the "home" of the world championship, in Silverston, the Spaniard made his debut by winning a race, having also won his first pole position in yesterday's qualifying.
At the end of the race, Sainz stated that the day could not have been better.
"It's fantastic. First victory after 150 races with Ferrari at Silverstone. Couldn't ask for more. It is a very special one for me that I will never forget", said the Ferrari driver. "Today, also Lewis [Hamilton] had a good day, but we managed to hold on and I'm very happy".
The Spanish rider's test was not easy, having to overcome some constraints with the medium tires in the initial phase of the race.
"It was not easy. I had a lot of difficulties with the balance of the car, especially in the first stint with the medium tires and with Max [Verstappen] demanding a lot of us in the high-speed corners. Even with that, I always believed that I could and tried to keep myself motivated. Then the Safety Car gave me that opportunity. You can imagine the nerves in that Safety Car, as it was my opportunity. And then the victory!" concluded Sainz.
Dear reader, this is an important message.
Unfortunately Autosport cannot continue to make its articles available for free.
It is no longer viable to have a team of professional journalists without being able to sell the product of our work.
Just as newspapers and magazines are paid, digital editorial content will also have to be paid.
Please subscribe to Autosport Exclusive and help us keep this machine running!
It's only €2 per month, subscribe now HERE
continue reading
Dear reader, this is an important message.
Unfortunately Autosport cannot continue to make its articles available for free.
It is no longer viable to have a team of professional journalists without being able to sell the product of our work.
Just as newspapers and magazines are paid, digital editorial content will also have to be paid.
Please subscribe to Autosport Exclusive and help us keep this machine running!
It's only €2 per month, subscribe now HERE