Home > FORMULA 1 > F1 > Great Britain F1 GP, Guanyu Zhou : "It was a big accident and I'm happy to be okay" By José Luis Abreu on 3 July 2022 21:22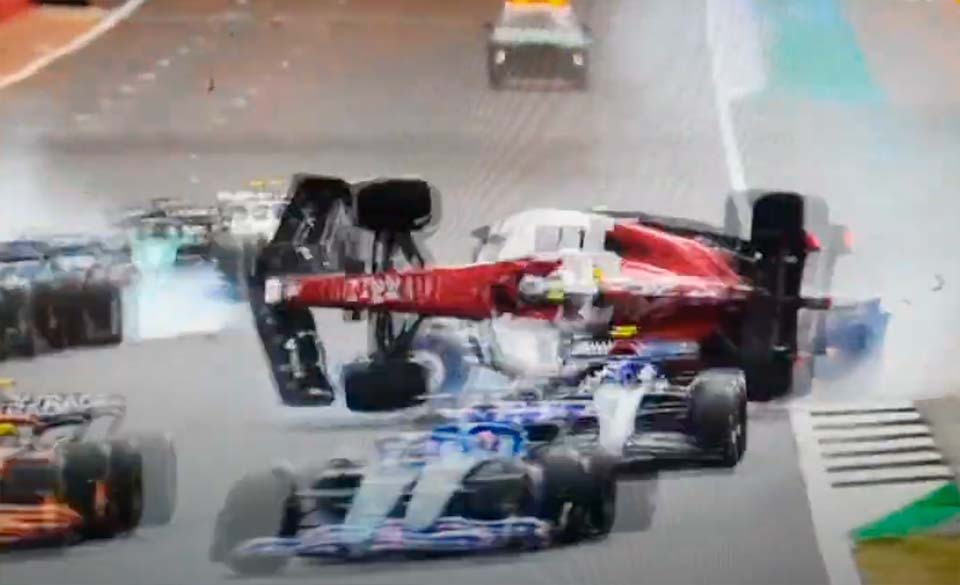 Despite the scare, boosted by the fact that the TV broadcast took a long time to show repetitions of the accident, which is always a bad sign (whoever broadcasts has orders not to show anything about the accidents until it is certain that the pilot is, minimally, well. It makes perfect sense). This took a while and started to worry people, but those who dealt closely with the accident quickly realized that nothing very serious was happening with Guanyu Zhou, an Alfa Romeo driver, who however kept his car in a very unorthodox position, ' wedged' between the tire barriers and the net that protects people on the stands from any debris or parts: "I'm fine, the Halo saved me today. Thank you all for your kind messages", wrote the Chinese pilot on his Twitter. And it's true, the dynamics of the accident were complicated, and if there was no Halo, the chances of the pilot hitting his head on the ground were great.
The part, which was introduced to Formula 1 in 2018, has already potentially saved a number of lives (because we'll never know what it would be like without the Halo). The car was vertical between the net and the tyres, and the driver suffered nothing significant: "It was a big accident and I'm happy to be well. The marshals and the track medical team were fantastic with their quick response, and I also owe my thanks to the FIA ​​and Formula 1 for all the work they have done, and continue to do, to improve the safety of our cars.
The Halo saved me today, and that goes to show that every step we take to improve our cars has real and valuable results. I'm more committed than ever to getting back on track and doing what I love. I'm fit and looking forward to the race in Austria next week," said Zhou.
Interestingly, on the same day in F2, Roy Nissany was also protected by the Halo after Dennis Hauger's single-seater flew and landed on the Halo of the Israeli driver's car.
Dear reader, this is an important message.
Unfortunately Autosport cannot continue to make its articles available for free.
It is no longer viable to have a team of professional journalists without being able to sell the product of our work.
Just as newspapers and magazines are paid, digital editorial content will also have to be paid.
Please subscribe to Autosport Exclusive and help us keep this machine running!
It's only €2 per month, subscribe now HERE
continue reading
Dear reader, this is an important message.
Unfortunately Autosport cannot continue to make its articles available for free.
It is no longer viable to have a team of professional journalists without being able to sell the product of our work.
Just as newspapers and magazines are paid, digital editorial content will also have to be paid.
Please subscribe to Autosport Exclusive and help us keep this machine running!
It's only €2 per month, subscribe now HERE