Home > Rally > WRC, Rally Finland, PE16: Kalle Rovanperä takes second, Ott Tanak keeps the distance By Fábio Mendes on 6 August 2022 15:36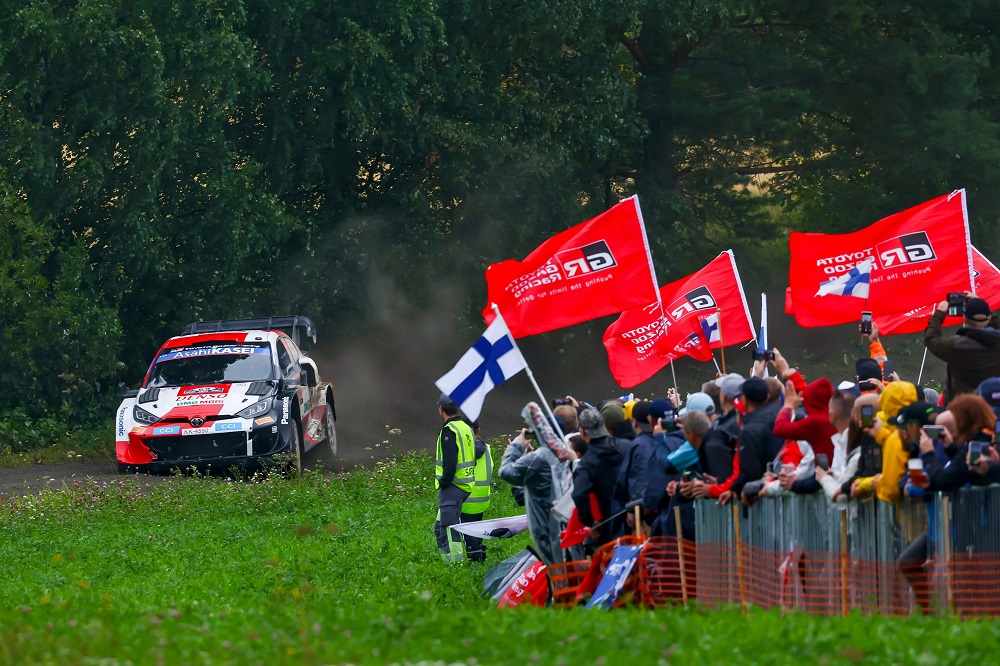 Kalle Rovanperä/Jonne Halttunen (Toyota GR Yaris Rally1) continue to win and in the second special of the afternoon, the Toyota duo won the second pass through Rapsula – 20.56 km -, but Ott Tänak/Martin Järveoja (Hyundai i20 N Rally1) did not let opponents get too close. The Hyundai driver took another 1.2 sec. than Rovanperä and with that he managed to keep his distances. Third in the special was Elfyn Evans/Scott Martin (Toyota GR Yaris Rally1) followed by Esapekka Lappi/Janne Ferm (Toyota GR Yaris Rally1), who lost second place to Rovanperä.
So, in the rally's calculations, Tanak is ahead with an 11.5 second advantage over Kalle Rovanperä, who has climbed one notch in the leaderboard and continues to try to do the best he can. In third is Lappi now 5.7 seconds off second. Evans is fourth at 9.8 seconds off the podium and Thierry Neuville/Martijn Wydaeghe (Hyundai i20 N Rally1) is fifth at 1min 25 from fourth, with Takamoto Katsuta/Aaron Johnston (Toyota GR Yaris Rally1) close by.
Online Times HERE
Dear reader, this is an important message.
Unfortunately Autosport cannot continue to make its articles available for free.
It is no longer viable to have a team of professional journalists without being able to sell the product of our work.
Just as newspapers and magazines are paid, digital editorial content will also have to be paid.
Please subscribe to Autosport Exclusive and help us keep this machine running!
It's only €2 per month, subscribe now HERE
continue reading
Dear reader, this is an important message.
Unfortunately Autosport cannot continue to make its articles available for free.
It is no longer viable to have a team of professional journalists without being able to sell the product of our work.
Just as newspapers and magazines are paid, digital editorial content will also have to be paid.
Please subscribe to Autosport Exclusive and help us keep this machine running!
It's only €2 per month, subscribe now HERE