Whenever a unit of Ferrari F40one of the most remarkable supercars ever, goes up for auction and the «event» does not go unnoticed.
However, when it comes to a unit as special as the one that RM Sotheby's is going to auction, identified as the F40 "Competizione" it is mandatory to tell its story.
This F40 (chassis no. 80 782) was "born" in November 1989 (version without catalytic converter and without adjustable suspension) and was delivered to Kroymans BV, the official importer of the Italian brand in the Netherlands. After three years in that country, this F40 underwent its first transformation. The goal? Prepare you to compete.
NOT TO BE MISSED: Ferrari, Lamborghini, Aston Martin gain more time to reduce emissions
Objective: compete
Despite the F40 appearing to be the missing link between track and road cars, there were no official plans from Ferrari to race it. However, thanks to Michelotto, practically two dozen racing F40s would be built – with the "blessing" of Ferrari.
This example was not one of them, but it was influenced by them and is part of a group of several road Ferrari F40s that were modified to be used in competition. So, in 1993, this F40 became a "Competizione" (track specification) F40, having been modified by Peter van Erp of Cavallino Tuning, the competition division of Kroymans.
The traditional red Ferrari color was replaced by yellow, the suspension was revised and received competition dampers, new brakes and a new instrument panel, from Stacks. This time, the engine has not been "touched", and has not undergone any improvement.
The following two years were spent on the circuit, which led, in 1995, to a new round of modifications to keep it competitive, with these being carried out by the British G-Tex.
Among the various modifications operated, it is estimated that it was at this time that this F40 "Competizione" received a total engine rebuild and a substantial power increase to more than 700 hp — originally it was 478 hp.
More modifications would be made after this date, as in 1997, when it changed hands, being in the possession of the Ferrari collector and driver Michel Oprey. The F40 "Competizione" replaced his 348 GT and raced in the successful Ferrari-Porsche Challenge championship during the late 1990s.
This F40 continued to race with Michel Oprey until 2006, who sold it to a British racing team, which continued to race the car until 2009, with further improvements throughout this period.
In 2019, it underwent an in-depth review that included several suspension tests, the installation of a fire extinguisher and the replacement of… replacement after some time.
Deep and expensive restoration
Already «in the hands» of its current owner, the Ferrari F40 "Competizione" which is now up for auction was the subject of a complete restoration by the Zanasi Group, which was completed this year.
It was on that occasion that it won this new color "Grigio Nardo" and also new seats painted in electric blue and with the Ferrari logo.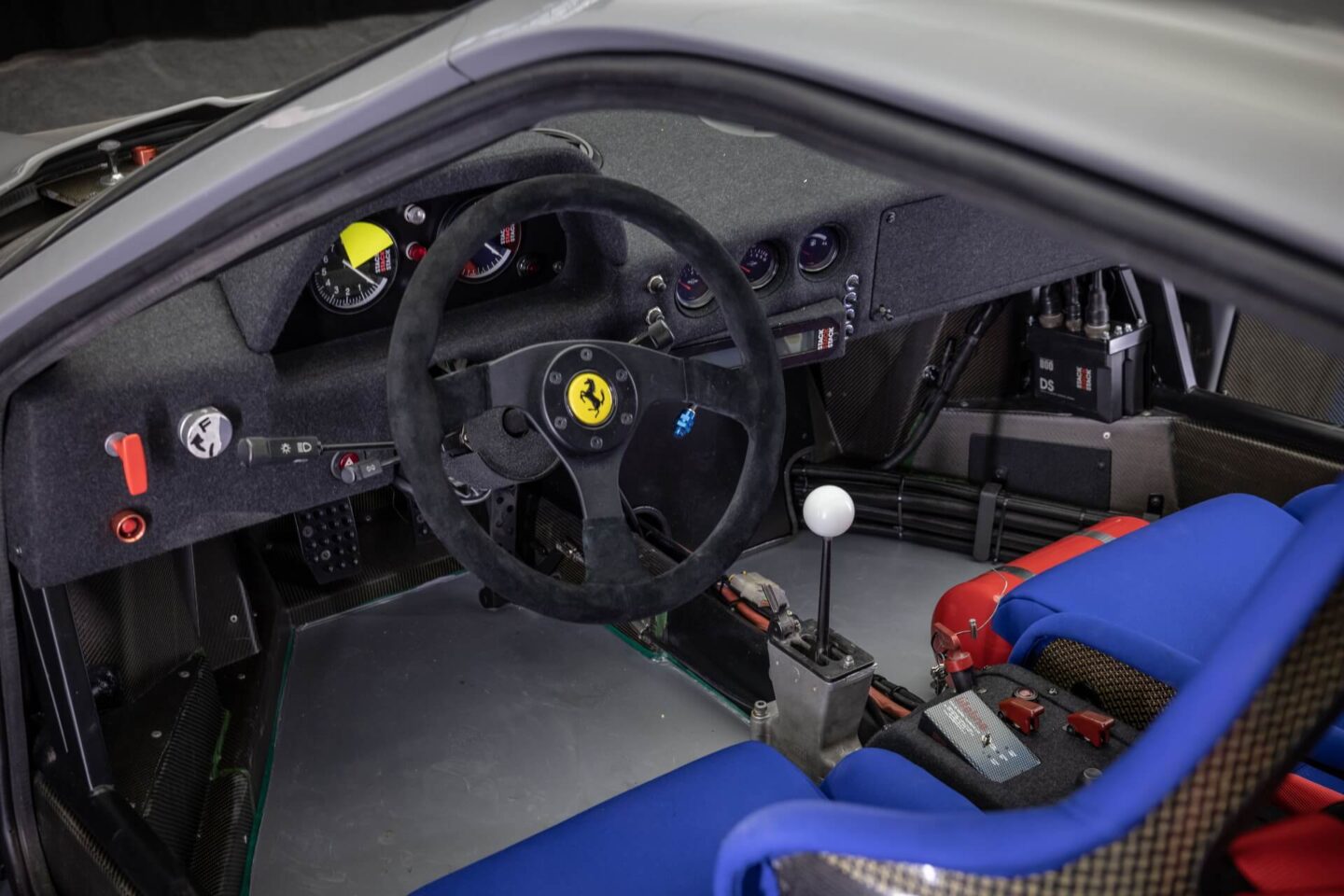 Previous (Left arrow key) Next (Right arrow key) © RM Sotheby's
As for the mechanics, a new review was carried out by the specialists of the Zanasi Group, making the 2.9 V8 biturbo of this F40 declare a power between 700 hp and 1000 hp, depending on the chosen tuning. If it's not the most powerful F40 of all, it has to be one of the most powerful ever.
The cost of this final restoration? More than 123 thousand euros!
It is not known what the reserve price of this unique Ferrari F40, only revealed upon request for consultation, but taking into account the history of chassis n.º 80 782 and of being, probably, the most powerful F40 in the world, we estimate that it is not particularly affordable.