Latest News
5 reliable used frame SUVs up to 2,000,000 rubles
LifehackKupi-prodai
Manufacturer's photo
Off-road vehicles have always been valued in Russia, they are loved even now. Another question is that car prices have skyrocketed, and now for two million rubles you can buy only a Chinese "puzoterka". So what to do if you want a frame, four-wheel drive and all the "pies"? Go to the secondary – there are no other options today. And the AvtoVzglyad portal tells about the most noteworthy models that meet the above criteria.
Let's start with the "king" of the class – Toyota Land Cruiser 200. For two "lyamas" there are both specimens with a 4.5-liter "diesel" (235 hp) and a gasoline 4.7-liter V8 (288 hp). . s.), although the latter are much less common. The runs of cars manufactured before 2012 are considerable – from 200,000 km. However, "Kruzaks" are famous for their reliability, because many of them will withstand the same amount.
Alternative – Mitsubishi Pajero. It appeared in 2006 and has since been produced without major changes for almost 15 years. The amount we have fits into a car with a 3-liter gasoline V6 with a return of 178 forces. The year of issue is 2013 or older. Mileage – about 130,000 km.
Another good option is the Kia Mohave. Not as covered with legends as Kruzak, and therefore cheaper. According to Auto.ru, the average price of a Korean "frame" is 1,700,000 rubles. At the same time, his equipment is quite rich: the buyer will find a leather interior, electric front seats, climate control, a sunroof and other benefits. By the way, the declared trunk volume of the "Korean" is 1045 liters. You can bring a fridge!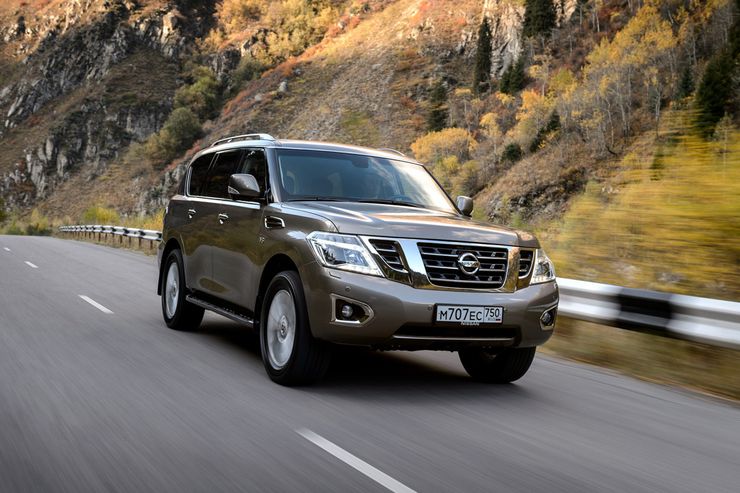 Manufacturer's photo
As for the motor, before buying a used Kia Mohave, you must definitely make a diagnosis. The fact is that the 3.8-liter gasoline unit is famous for its low timing chain resource and increased oil consumption. The older V8 is much more reliable, but there are few such versions, and besides, they are more expensive.
You can pay attention to the Nissan Patrol. A car made in 2011-2014 is worth two million rubles. Under the hood will be a non-alternative 5.6-liter engine with a return of 405 forces, paired with a 7-speed "automatic". Patrol is quite richly equipped, and it is also reliable. Of the weak points, we single out only the high-pressure fuel pump and the relatively rapid wear of the timing chain. Well, increased fuel consumption, due to the impressive engine displacement.
Finally, it's worth taking a look at the Chevrolet Tahoe. "American" 2013 release with a mileage of 220,000 km is sold for 1,800,000 rubles. The equipment is pretty decent: leather interior, climate control, premium audio system with 10 speakers and other goodies. Under the hood is a 5.3-liter petrol "heart" (324 hp) combined with an "automatic".
5449
5449
Subscribe to the channel "Auto View":
April 26, 2023
14527