Latest News
The new "Eshka" turned out to be cooler than the "older" Mercedes-Benz S-class
CarsAvtoprom
Manufacturer's photo
The Germans introduced a new generation of the Mercedes-Benz E-class, which outdid even the older "brother" in the face of the S-class. The car received a whole scattering of serious improvements, several options for external styling and a space interior. With details – the portal "AvtoVzglyad".
The new E-Class stretches to 4949mm, is 28mm wider and has a wheelbase of 2961mm. Places in the cabin — more than enough. The center console is represented by a 14.4-inch interactive display, the passenger has a separate monitor with a diagonal of 12.3 inches.
The infotainment media complex allows not only watching videos and playing games via a network connection, but also taking pictures and even arranging online streams. In general, you can relax or work without even leaving the salon.
Comfort is provided by the servo drive of the ventilation deflectors – the electronics independently regulate the air flow depending on the selected operating mode.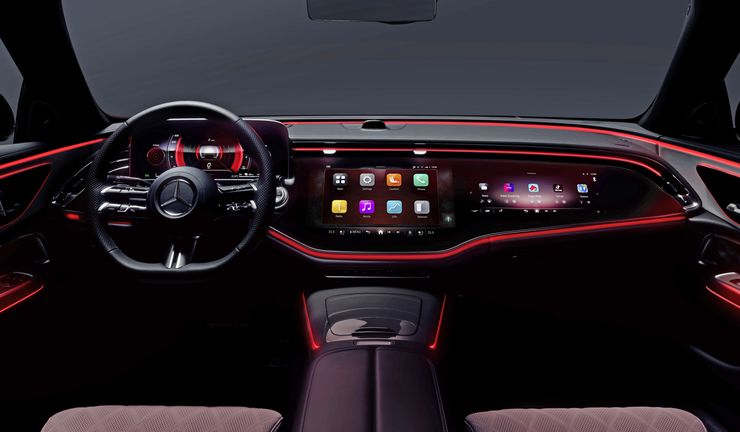 Manufacturer's photo
From now on, the Mercedes-Benz E-class is also equipped with a steering rear axle, and optionally, you can install a "pneuma" that automatically presses the car to the roadway by 15 mm at speeds over 120 km / h.
Customers can choose from several variations of car exterior design. From classic to AMG, including styling in the style of the EQ models.
Eshka received six modifications around four-cylinder gasoline engines with a new generation 48-volt starter-generator integrated into a nine-speed transmission. The most powerful of them develops 381 hp. With. and 650 Nm of thrust.
Later, the power line will be replenished with a diesel rechargeable hybrid. But you should no longer count on the V8 – this motor has gone to the dustbin of history. The most "sinister" version will also get a hybrid installation, but its power characteristics have not yet been disclosed.
2784
2784
Subscribe to the channel "Auto View":