Latest News
What kind of car malfunctions will tell various tire defects
LifehackExploitation
Photo: Drive2.ru (AndreyM90)
The attentive look of an experienced motorist is able to notice even seemingly insignificant details. But the little things are critically important both when inspecting your own car, and when choosing a used one. Tires will tell a lot about the state of the "iron horse". In the material of the portal "AvtoVzglyad" – "diseases" that can really be diagnosed by them.
Of course, there are many reasons for tire wear. For example, they suffer from constant low pressure driving. We will tell you where to look if any atypical defects appear.
For example, a very small and very thin wear on the outside of the rubber indicates that the front or rear silent blocks need to be replaced. During operation, they could crack or even turn around. Because of this, the camber angles are violated, but at first absolutely nothing changes in the behavior of the car. But if you tighten it with a replacement, then the new automobile "shoes" can be written off as scrap.
Wave-like abrasions in the tread part indicate vibrations that appear at speed. Possible causes are imbalance or a problem with the wheel bearing. In this case, you need to raise the car on a jack and shake the wheel. "Shoe" backlash? So, we urgently change the hub. Otherwise, the bearing will collapse inside and the car will be left without a wheel in a turn.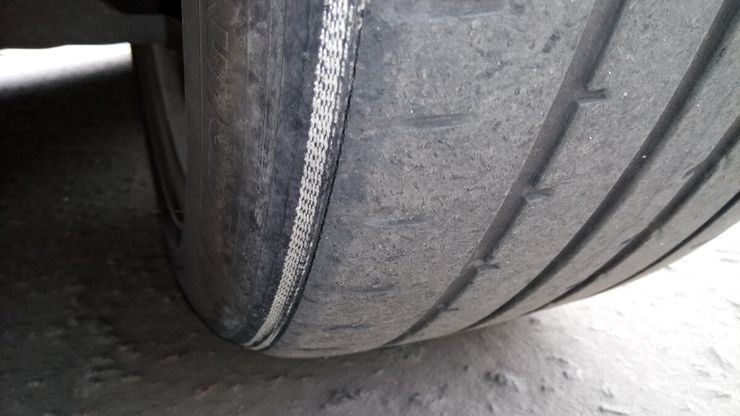 Photo: Drive2.ru (hodovik-razval)
And the imbalance occurs with various impacts. The result is a "figure eight" on the disk. If the defect is small, and the speeds are urban, then the driver will not feel anything. However, the car will start to "eat" the "rubber".
Further more. When stray vibrations are felt during braking or acceleration, you need to pay attention to the inside of the wheel. There may be signs of heavy wear on the rim. Its edge literally peels off. This threatens that the "balloon" will one day jump off and roll off in an unknown direction.
The reason is that a tire is put on the "casting" that does not correspond to the standard parameters of this very disk. It is quite a bit wider, but such a trifle is enough to start deformation. The edge does not withstand the load that the sidewall of the tire exerts on it and is gradually erased. "Rubber" is also injured in the seats and becomes unsuitable for further use.
113791
113791
Subscribe to the channel "Auto View":